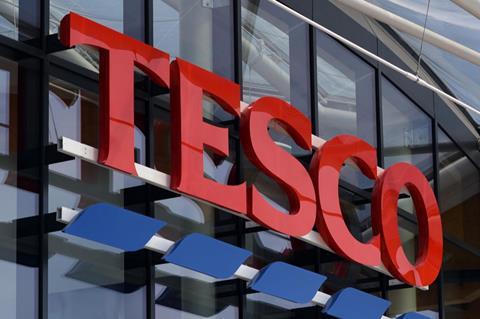 Top story
Tesco has upgraded its profit expectations after strong growth in its third quarter and over Christmas generated its highest market share in four years.
Its UK & Ireland like for like sales over the 19 weeks to 8 January were up 2.4% overall and up by 2.7% over the Christmas period.
This meant two-year sales for the 19-week period were up 8.6% and up 9.2% over Christmas.
The overall growth was driven largely by Booker, with UK retail like for like sales up 0.2% over the 19-week period and up 0.3% over Christmas, while Ireland sales fell 2.1% despite a 0.3% uptick in the Christmas period.
Booker was up 17.5% over the 19-week period, with Christmas growth of 20.5%, albeit against weaker comparatives which saw two-year 19 week growth of 14.8%.
In the UK, Tesco said it had seen continuing strong momentum on top of exceptional performance last year
Tesco said the performance reflected strong large store and convenience trading, with online sales significantly ahead of pre-COVID levels (up 58.7% on a two year basis) with 1.2m orders per week.
It resulted in its highest share in four years, with market share growth both in stores & online amid 22 consecutive periods' switching gains.
For Booker, both retail & catering sales well ahead of pre-COVID levels (retail up 19.5% on a two-year basis and catering: up 8.8%) despite the Omicron impact on the catering sector.
Central Europe sales were up 4.9% in the 19-week period and by 8.1% over Christmas, as the easing of COVID restrictions "enabled customers to access full strength of our offer".
Overall group retails sales were up 2.6% over the 19-week period and by 3.2% over Christmas.
Tesco said that as a result of stronger than expected sales to date, it now expect retail operating profit slightly above the top-end of its previous £2.5bn to £2.6bn guidance range.
It added that it expects Bank operating profit to be between £160m and £200m, due to the effect of more favourable economic forecasts on its provision for expected credit losses
CEO Ken Murphy commented: "We are delighted that we were able to help our customers have a great Christmas. Despite growing cost pressures and supply chain challenges in the industry, we continued to invest to protect availability, doubled down on our commitment to deliver great value and offered our strongest ever festive range. This put us in a strong position to meet customers' needs as, once again, COVID-19 led to a greater focus on celebrating at home. As a result, we outperformed the market, growing market share and strengthening our value position.
"The entire Tesco team is at its best when it is delivering for customers and we are really pleased that so many customers who were new to Tesco during the pandemic have remained with us - either continuing to shop online or becoming regular in-store customers. This reflects the hard work and commitment of our fantastic colleagues and I want to thank every single one of them for the incredible contribution they make every day."
Morning update
Marks & Spencer has reported resurgent sales over the Christmas period, with food sales up double-digits clothing and home sales continuing to recover.
Total sales in the 13 weeks to 1 January were up 18.6% to £3bn and up by 8.9% on a two-year basis.
Food sales increased 12.4% on a two-year basis and by 10% year-on-year, with sales excluding hospitality and franchise up 16.4%.
M&S said retail parks and Simply Food stores continued to outperform. The larger basket sizes it saw in the first half continued through the Christmas period as customers used M&S for more of their everyday shopping.
As a result, M&S was the fastest growing major store-based Food retailer in the period.
The business generated its highest ever Christmas sales with December growth in line with the performance for the quarter. In addition, although not included in these numbers, M&S products performed strongly on Ocado.com, representing 30% of baskets in December.
Clothing & Home sales increased 3.2% (and by 37.7% year-on-year). Full price sales grew by 45%, reducing the amount of product sold on promotion by 66% and stock into sale by 21% compared to 2019/20.
In November M&S indicated that it expected the strong trading we had seen in the early part of the quarter to be sustained.
As a result of its performance in the balance of the period, it said the group is more confident of its ability to deliver the increased guidance and now expects full year profit before tax and adjusting items of at least £500m, assuming no further material restrictions or lockdowns.
CEO Steve Rowe said: "Trading over the Christmas period has been strong, demonstrating the continued improvements we've made to product and value. Clothing & Home has delivered growth for the second successive quarter, supported by robust online and full price sales growth. Food has maintained its momentum, outperforming the market over both 12 and 24 months.
"The market continues to be impacted by the headwinds and tailwinds that we reported in the first half, but I remain encouraged that our transformation plan is now driving improved performance."
Away from retail, meat processor Hilton Food Group has issued a trading update for the 52 weeks ended 2 January 2022, saying it was trading in line with the board's expectations with sales growth driven by organic expansion.
Over the two year period Hilton said it has seen strong, sustained growth as it strives to become "the global protein partner of choice".
In Europe, it saw good progress across its markets and strong growth on a two year basis. As expected against strong prior year comparatives, regional revenue is broadly flat for the year reflecting the increase in consumers eating out following the re-opening of food service in the second half.
Within the UK it saw strong growth in the slow cooked business, while in Central Europe, it delivered continued volume growth in fresh food.
In Australia, where it has seen strong double-digit growth, it is now successfully operating as a unified business.
Hilton has made a number of acqusitions during the year, including the remaining 50% of vegetarian and vegan food producer Dalco and the food service protein provider Fairfax Meadow. In December, it acquired the speciality smoked salmon producer, Foppen, while it bought a 50% interest in Agito Group, a provider of automation and software controls.
Hilton said its trading outlook remains positive, with growth prospects underpinned by the expansion plans previously announced, the four recent acquisitions and further opportunities arising from the development of its cross category business and the application of Hilton's supply chain management expertise.
"Funding is in place to cover the announced expansions and the Group's financial position remains strong," it said. "We will continue to explore opportunities to grow the business in both domestic and overseas markets."
Bakkavor said it has seen robust revenue growth in its 2021 financial year, with margins ahead of expectations despite persisting industry challenges in the form of supply chain constraints, labour shortages and cost inflation.
Reported revenue for the year to 25 December was up 4.4% compared to 2020.
On a like for like basis, revenue increased by 6.2% compared to 2020 and by 1.2% compared to 2019.
Operating margin is expected to be ahead of previous guidance and at the top end of the range of current market expectations of 5.0%-5.2%. This reflects the group's "scale and category leadership, strong relationships and strict focus on cost control, all of which helped to mitigate cost inflation and labour shortages, as well as drive year-on-year efficiency improvements".
It said: "Whilst the industry-wide challenges intensified in the last quarter of 2021 and are remaining into 2022, we continue to work closely with customers and suppliers to mitigate the ongoing impact".
In particular, it saw strong sales momentum in the UK as lockdown restrictions eased and frequency of shopping visits returned. All categories, except for salads, were in growth compared to 2019, driven by strong underlying performance, new product launches and seasonal events.
Whilst salads volumes were more severely impacted by lockdown restrictions and subsequently constrained by labour availability through the summer peak, we have seen the category recovery improve through the year.
Overall the UK saw like-for-like sales increase by 2.9% compared to 2020 and was down only 2.3% compared to 2019.
In the US, it continued to see positive momentum through the period, supported by growth with its strategic grocery retail and online customers. Revenue increased 31.8% on a like-for-like basis compared to 2020 and 48.4% compared to 2019 and it has invested in increased capacity across its existing footprint to accommodate new business.
However, inflationary pressures, first felt acutely in the second quarter of the year, have persisted, and while it said it has been successful in securing price increases across its customers latterly to help mitigate the impact, margins have been held back.
It expects operating margin to be broadly in line with the group in 2021, though consumer demand for fresh, convenient meals and fresh prepared food continues to accelerate in the country.
Its China business continues to deliver steady progress despite ongoing regional restrictions impacting volumes, particularly in the second half. Like-for-like revenue increased 24.6% compared to 2020 and was down only 2.4% compared to 2019, an improved trend compared to the first half of the year.
CEO Agust Gudmundsson commented: "We are pleased to see continued growth and strategic progress across the Group, despite unprecedented industry-wide challenges. The Group's strong performance and ongoing commitment to delivering for our customers is testament to the resilience of our business model and the dedication of our colleagues. We have continued to leverage our scale, category leadership and expertise - together with our strengthened financial position - enabling us to successfully navigate these challenges and emerge in a position of strength.
"We have confidence in our ability to continue to build on the positive revenue momentum through 2022 as demand for our fresh, convenient, and innovative products remains strong. The significant challenges facing our industry are, however, persisting; we remain focused on mitigating the impact, as well as managing the current heightened uncertainty associated with the Omicron COVID-19 variant. Looking forward, we remain positive about the medium-term growth opportunity and believe the Group is well placed to deliver enhanced returns for shareholders."
Finally, Finsbury Food Group delivered a "robust" first half trading performance in the six months to 25 December, notwithstanding the external challenges being faced by the company.
Total sales of £166.5m represented an 8.9% increase versus the corresponding period in the prior year. It also reflects a 4.4% increase on the first half in 2019, which was a period unaffected by the pandemic.
This growth in sales has been driven by a stable performance in UK retail (+1.5%), a continuation of the robust recovery in foodservice (+25.9%) and a 32.3% increase in the group's overseas division.
However, throughout its first half the group faced persistent pressure from input cost inflation, staff shortages and other supply chain disruptions. It has been able to successfully mitigate the impact of these pressures to date through commercial negotiations, operational improvements and other supply chain initiatives.
It will continue in the same vein given further inflationary cost pressures are expected in its second half of its financial year.
In addition, the impact of Omicron on foodservice consumer demand and production disruption due to staff members required to self-isolate remains unpredictable. It stated: "The company has a successful track record of navigating challenging market conditions, and will continue to use its experience as it works through the second half."
On the markets this morning risers include Just Eat Takeaway.com, up 4.6% to 3,911.5p, THG, up 3.4% to 190.9p and McColl's, up 1.7% to 11.7p.
Fallers include Marks & Spencer, down 6.3% to 237.1p, Nichols, down 3.8% to 1,455p and Tesco, down 2.1% to 286p.
Yesterday in the City
The FTSE 100 closed the day up 0.8% to 7,551.7pts.
Sainsbury's was one of the day's major risers, climbing 3.1% to 288p after it lifted its profit guidance for the year despite a fall in sales over the key Christmas trading period.
Just Eat Takeaway.com was also on the rise, climbing 3.7% to 3,738p after orders jumped 33% to 1.1 billion in 2021, with profitability rapidly improving, the takeaway delivery app said in a trading update.
Other risers included Naked Wines, up 3.2% to 595p, Nichols, up 3.2% to 1,512.5p, PayPoint, up 2.7% to 690p, Pets at Home, up 2.7% to 690p, McBride, up 1.8% to 56.8p and Bakkavor, up 1.6% to 126p.
The day's fallers included Deliveroo, down 4.4% to 180.8p, Kerry Group, down 3.8% to €112.00, Ocado, down 2.9% to 1,527p, WH Smith, down 2.4% to 1,574.5p, Marks & Spencer, down 1.5% to 253p and Greggs, down 1.4% to 2,859p.