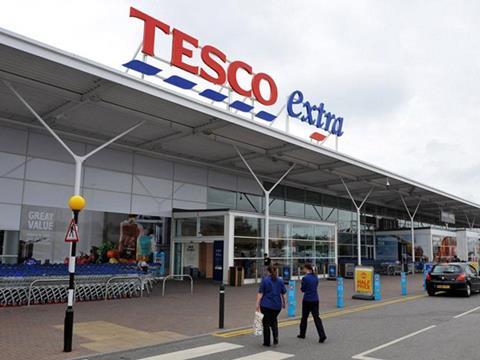 Tesco (TSCO) has posted its first full-year like-for-like UK sales growth since 2009/2010 as the supermarket's recovery under CEO Dave Lewis continues to gather pace.
Tesco's group sales were up 4.3% to £49.9bn in the year to 25 February, up 1.1% at constant exchange rates after a 3.2% boost from the weakness of sterling.
UK-like-for-like sales were up 0.9% in the year – its first reported full-year growth for seven years – while UK food like-for-likes were up 1.3%.
Profits also surged during the year, with group operating profit before exceptional items up 24.9% to £1.28bn at constant exchange rates and up 29.9% at actual rates.
Statutory operating profit still topped £1bn (down 5.1%) despite exceptional items totalling £263m (after an exceptional gain of £87m last year), including the £235m charge relating to its SFO and FCA obligations over its historic accounting scandal.
Group operating margin rose from 1.8% to 2.3% and is "on track" for Tesco's 3.5-4.0% ambition by 2019/20. Its full year UK & ROI operating profit before exceptional items was £803m, up 60% on last year, with margin growth of 68 basis points year-on-year.
However, Tesco's reported pre-tax profit fell 28.2% from £202m to £145m, which represents a 39.1% fall on a constant currency basis.
In the UK and the Republic of Ireland Tesco has experienced five consecutive quarters of like-for-like sales growth.
In the UK, volumes grew 1.6% and transactions grew 1.7% as it "outperformed the market across all categories on a volume basis", particularly in fresh food driven by the launch of its new own label brands in March 2016.
Tesco said that despite some inflation in a number of categories in the second half of the year, the price of a typical customer basket remains around 6% cheaper than in September 2014. Promotional participation has fallen to 32% as it "made a conscious decision to focus our investments on sustainable improvements rather than on short-term couponing and promotions".
In the Republic of Ireland, like-for-like sales fell by 0.1%, while international sales grew by 2.1% at constant exchange rates, including a 0.8% new store contribution driven by store openings in Thailand which offset the impact of store closures, primarily in Europe.
CEO Dave Lewis said: "Today, our prices are lower, our range is simpler and our service and availability have never been better. Our exclusive fresh food brands have strengthened our value proposition and our food quality perception is at its highest level for five years. At the same time, we have increased profits, generated more cash and significantly reduced debt.
"We are ahead of where we expected to be at this stage, having made good progress on all six of the strategic drivers we shared in October. We are confident that we can build on this strong performance in the year ahead, making further progress towards our medium-term ambitions."
He added that the proposed takeover of Booker "will bring together two complementary businesses, driving additional value for shareholders by realising substantial synergies and enabling us to access the faster growing 'out of home' food market".
In terms of outlook, Tesco said it is "confident in the plans we have shared and in the progress we will make this year", including further steps towards reducing costs by £1.5bn, generating £9bn retail cash from operations and improving group operating margin to between 3.5% and 4.0% by 2019/20.
"With a much more competitive offer and supplier partnerships as strong as they have ever been, we are much better positioned to navigate challenging market conditions," the supermarket stated.
Tesco's shares are 2% down this morning to 191.7p in reaction to the results.
Morning update
WH Smith (SMWH) has reported a 5% increase in first half trading profits as its travel operations continue to grow.
Total group sales for the six months to 28 February were up 2% to £643m with group like-for-like sales flat after growth in its travel operations was negated by falling high street sales.
Group profit from trading operations increased by 5% on the prior year to £92m and group profit before tax increased by 4% to £83m.
Travel delivered a "strong performance" with increased like-for-like sales across all channels. Total sales were up 10% compared to last year (3% of which relates to currency benefits) and up 5% on a like-for-like basis, driven by ongoing investment and an improvement in passenger numbers.
The division's trading profit increased by 11% to £39m, including £4m from its growing international business.
Like-for-like sales were down 3% in the first half on the high street, with total sales down 4%. However, WH Smith said the high street "delivered a good performance in the half" with trading profit flat at £53m against a "very strong performance last year".
Cost savings of £7m were delivered in the period with a further £3m identified for the second half, making a total of £10m of cost savings in the year.
As at 28 February 2017 High Street operated from 613 stores (up from 612 stores last year), which occupy 2.82m square feet. Travel operated from 790 units (up from 768 units), and excluding franchise units, occupies 0.61m square feet.
CEO Stephen Clarke said: "Looking ahead, 2017 is a significant year for us as we celebrate 225 years since the business was founded. And, while there is some uncertainty in the broader economic environment, we will continue to focus on profitable growth, cash generation and investing in the business which positions us well in the current year and into the future."
Engineering and agriculture group CARR's (CARR) has reported interim results for the six months ended 4 March 2017.
Revenues were up 15.3% to £176.8m,with operating profit (before exceptional items) up 0.9% to £7.5m.
Profit before tax (before exceptional items) was up 4.8% to £8.9m, but including exceptional items send pre-tax profits down 2.6% to £8.3m.
Carr's said it had seen strong performance in UK Agriculture, outperforming the market and continuing to grow market share. This greater confidence in UK agriculture expected to continue into the second half of the year.
On the markets this morning, the FTSE 100 is up 0.4% to 7,397.3pts.
Tesco's early fall has had a knock-on effect, with Booker down 1.4% to 199.3p, Ocado down 1.1% to 236.8p, Morrisons (MRW), down 0.9% to 234p and Sainsbury's (SBRY) down 0.8% to 262.8p.
WH Smith is down 0.3% to 1,820p, while Carr's is up 0.7% to 136p.
Elsewhere, Crawshaw Group (CRAW) is up 8.2% to 26.5p, Applegreen (APGN), up 3.1% to 417p and Premier Foods (PFD) up 2.2% to 45p.
Larger companies on the rise include Diageo (DGE), up 1.2% to 2,317.5p and Reckitt Benckiser (RB), up 1.1% to 7.470p.
Fallers include Science in Sport (SIS), down 3.3% to 87p, Total Produce (TOT), down 2.4% to 162p and C&C Group (CCR), down 1.7% to €3.69.
Yesterday in the City
The FTSE 100 ended the day edging up 0.2% up to 7,365.5p yesterday.
Majestic Wine (WINE) was one of the day's big risers, climbing 3.9% to 376p despite the exit of retail MD John Colley after a little more than 18 months.
Tesco was up 0.7% to 195.6p ahead of its annual results this morning on what was generally a good day for the grocery/fmcg sector.
Tesco takeover target Booker (BOK) ended the day up 1% to 202.2p, while its meat supply partner Hilton Food Group (HFG), was up 3.6% to 699.5p.
Dairy Crest (DCG) ended the day 2.1% higher at 578.5p, Britvic (BVIC) was up 1.1% to 663.5p, Coca-Cola HBC (CCH), up 1.1% to 2,083p and Compass Group (CPG) was up 1.1% to 1,533p.
Fallers included Hotel Chocolat (HOTC), down 3.3% to 321.1p, McColl's (MCLS), down 2% to 200p and Premier Foods (PFD), down 1.7% to 44p.
Other fallers included Ocado (OCDO), down 1.4% to 239.4p and Cranswick (CWK), down 0.9% to 2,555p.