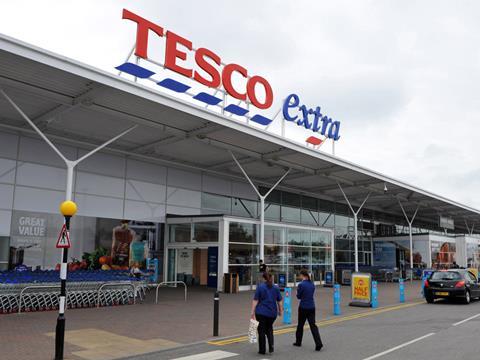 Top story
Profits at Tesco have plunged by more than £700m despite sales rocketing as the supermarket incurred Covid-related costs of almost £900m.
Revenues in UK & Ireland climbed 8.8% to £48.8bn in the year ended 27 February 2021 as shoppers were forced to turn to supermarkets during three seperate coronavirus lockdowns.
Online sales increased 77% to £6.3bn as Tesco rapidly increased its capacity in response to surging demand from customers staying at home, with slots doubled to 1.5 million a week.
Total growth at a group level was pushed back to 7.1% as revenues in Europe fell 2.1% and by 31.2% at the Tesco Bank.
Despite strong growth in the top line, operating profits before exceptional items at the group plunged 28.1% to £1.8bn after the retailer spent £892m making stores safer, recuriting thousands of extra staff, ramping up its online operation and paying out bonuses to workers.
Retail operating profits were down 14.7%.
Tesco said profits would have increased by 11.4% if it hadn't chosen to return £535m of business rates relief.
Its banking operations also made an operating loss of £175m as expected.
New CEO Ken Murphy, who took over from Dave Lewis in October, said Tesco had shown "incredible" strength and agility throughout the pandemic, with "truly heroic" and selfless efforts from the entire team.
"While the pandemic is not yet over, we're well-placed to build on the momentum in our business," he added.
"We have strengthened our brand, increased customer satisfaction and improved value perception. We have doubled the size of our online business and through Clubcard, we're building a digital customer platform. Sustainability is now an integral part of our business strategy and we're doubling down on our efforts to reach net zero."
Tesco expects a strong recovery in profitability in the new financial year as Covid costs won't be repeated, but some of the strong volume gains seen during the pandemic are also likely to fall away as lockdown restrictions ease further.
"Whilst the greater than usual level of uncertainty around sales volumes, mix and channel shift makes it difficult to be precise, our best estimate at this stage is for retail operating profit to recover to a similar level as in the 2019/20 financial year (on a continuing operations basis) - the year prior to Covid-19 having any impact on performance," the supermarket said.
The pandemic helped sales at Tesco rise 9.4% in its first quarter of 2020/21 as consumers stockpiled groceries at the start of the initial national lockdown. Figures stabilised in the second and third quarters before re-accelerating at the year-end as the country once again went into another lockdown.
Sales grew in every format and channel, with like-for-like sales in large stores up 1.5%, with bigger baskets but fewer visits, and 3.9% like-for-like growth in the Express and One Stop stores as consumers favoured shopping closer to home.
Booker sales grew by 10.5%, thanks in part to the inclusion of sales from Best Food Logistics, which was acquired at the beginning of the financial year.
Tesco shares sank by 4% to 222.9p as markets opened this morning on the news of its results.
Murphy said today: "Our decision to protect and hold the dividend flat for this financial year demonstrates our commitment to shareholders. We believe we can create significant further value for them and every stakeholder in our business by continuing to focus on value, loyalty and convenience for customers, underpinned by strong capital discipline."
Morning update
Tesco has also this morning announced the appointment of the CEO of Kingfisher and a former Sainsbury's chief digital and marketing officer to its board.
Thierry Garnier and Bertrand Bodson will join the Tesco board as independent non-executive directors on 30 April and 1 June respectively.
Garnier has been CEO of the B&Q and Screwfix owner since 2019 and previously spent 20 years at French supermarket chain Carrefour, including a stint as CEO in Asia.
Bodson is chief digital officer at Swiss multinational pharmaceutical company Novartis and was previously chief digital and marketing officer at Sainsbury's, as well as an executive vice president for EMI Music.
Tesco chairman John Allan said "I am absolutely delighted Thierry and Bertrand will be joining Tesco at an exciting point in its development.
"I know that their broad range of skills and experience will be a real asset to the company and further strengthen the board's discussions and oversight.
"The board and I very much look forward to working with them over the coming years."
Mark Armour, Mikael Olsson and Deanna Oppenheimer do not intend to seek re-election to the board at the company's 2021 AGM.
Oppenheimer's retirement from the board will mean that she also steps down from her role as senior independent director and will be succeeded by Byron Grote.
"On behalf of the board, I would like to thank Mark, Mikael and Deanna for their outstanding commitment and invaluable contribution to the board and its committees over a number of years," Allan added. "They have all brought excellent insights and wise counsel to the board and its bommittees, and we wish them well for the future."
Distil, owner of the RedLeg Spiced Rum, Blackwoods Gin and Vodka, Blavod Black Vodka, Trøve Botanical Spirit, Jago's Cream Liqueur and Diva Vodka brands, has reported a 48% rise in revenues to £3.6m as volumes jumped 30%.
The group said sales in the year ended 31 March 2021 were hit by the closures in the hospitality sectors and in duty free shops, with Blavod Vodka declining by 65%.
However, the business saw exports eurge 81% and gained sales in other channels as consumers drank more at home.
Despite Covid-related costs and investment in NPD, adjusted EBITDA like-for-like growth for the year stood at 55% to £302k.
Executive chairman Don Goulding said: "The outlook for the coming year is positive as restrictions are eased, consumer confidence grows, and social activity is restored. Against this backdrop we will confidently continue to drive growth and invest in new products which offer shareholder value."
Yesterday in the City
The FTSE 100 continued its subdued response to the relaxation of Covid restrictions in the UK, rising 0.1% to 6,894.31pts yesterday. The more UK-focused FTSE 250 fared a little better to climb 0.5% to 22,268.46pts.
Just Eat celebrated a storming day as investors piled in following a trading update showing growth rocketed for the fourth quarter in a row. The stock soared 6.7% to 7,845.4p.
The feel-good effect for food delivery rubbed off on beleaguered Deliveroo, which climbed 5.3% to 266.4p, which is still way off the listing price of 390p.
Other risers yesterday included Total Produce, up 5.9% to 180p, The Hut Group, up 4.5% to 702.5p, and B&M European Value Retail, up 2.8% to 550.8p.
SSP Group was among the fallers of yesterday's session, sliding 3.8% to 312.4p, while cider maker C&C Group was down 2.8% to 290.8p and Hotel Chocolat decreased by 2.4% to 405p.
Tesco closed 0.1% higher at 232.1p ahead of this morning's annual results.