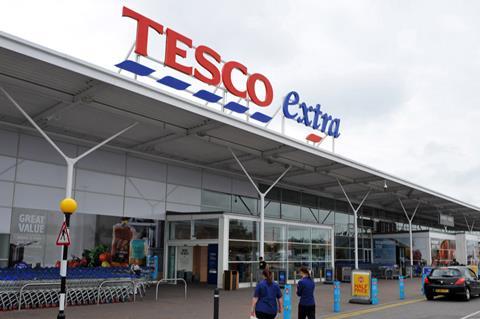 Top story
Tesco (TSCO) beat analyst expectations to deliver a 29% surge in pre-tax profits, cementing its continued recovery under chief executive Dave Lewis.
Lewis declared himself "very confident" that the retailer will complete its turnaround goals during the 2019-20 financial year, after posting double figure sales and profit growth.
Pre-tax profits jumped to £1.7bn for the year to 23 February 2019 on the back of £532m in cost savings during the period, taking total savings during the four-year turnaround to more than £1.4bn.
Group sales increased 11.5% to £56.9bn as the retailer was buoyed by the continued strong growth of the Booker wholesale arm it purchased for £3.7bn last year.
The group saw a 2.9% rise in like-for-like sales, driven by a 11.1% surge in like-for-like sales at Booker, while Tesco UK delivered 1.7% growth.
The turnaround programme has seen Tesco improve its "mix across geographies, channels and product", it said, including the closure of Tesco Direct last year.
In January, it also announced that 9,000 jobs would be affected by plans to restructure its stores, removing a raft of fresh food counters, and its head office functions.
The year also saw the launch of its Jack's chain of discount stores, which opened in its ninth location this week, as it looked to tackle the growth of the German discounters.
In the fourth quarter, Tesco's UK retail business saw sales growth improve, rising to 1.7% from 0.7% in the previous period.
The rise helped it maintain 1.9% like-for-like growth from the previous quarter, despite a significant slowdown in growth at Booker, which reported a 4.3% increase in sales compared to an 11% increase in the third quarter.
"After four years we have met or are about to meet the vast majority of our turnaround goals. I'm very confident that we will complete the journey in 2019-20," commented Lewis.
"I'm delighted with the broad-based improvement across the business. We have restored our competitiveness for customers - including through the introduction of 'Exclusively at Tesco' - and rebuilt a sustainable base of profitability.
"The full year margin of 3.45% represents clear progress and the second half level of 3.79%, even before the benefit of Booker, puts us comfortably in the aspirational range we set four years ago.
"I'm pleased that we are able to accelerate the recovery in the dividend as a result of our continued capital discipline and strong improvement in cash profitability."
The grocer also announced a final dividend of 4.1p, taking its full-year dividend to 5.77p, up 93% on the previous year.
Tesco shares jumped 2.1% to 238.8p in early trading.
Morning update
Spirit giant Diageo (DGE) has announced the recruitment of former Reynolds American CEO Debra Crew as a new non-executive director.
Crew led the American tobacco company prior to its acquisition by British American Tobacco in January 2017, having joined the business after a five-year spell at PepsiCo.
Prior to PepsiCo, she held positions, from 1997 to 2010, at fmcg giants Kraft Foods, Nestle and MARS.
"I am delighted that Debra is joining the Diageo board," commented Diageo chairman Javier Ferran.
"Her expertise in FMCG and experience as a former CEO will add to and complement the current board and will serve Diageo well as we continue to progress on our journey to achieving our ambition to become one of the most trusted and respected consumer products companies in the world.
"I very much look forward to welcoming Debra to the team and am confident that she will make a valuable contribution to the long-term sustainable success of the company."
High street bakery chain Greggs (GRG) has appointed Kate Ferry as a non-executive director.
Ferry, who will commence her role from 1 June 2019, is current chief financial officer at Talk Talk Group.
Prior to joining Talk Talk, Ferry was a member of the Dixons Carphone executive committee, originally joining Carphone Warehouse in 2010 as corporate affairs director to facilitate the demerger from TalkTalk.
"We are delighted that Kate has accepted our invitation to join the board," commented Ian Durant, chair of Greggs.
"She brings with her extensive financial expertise in a listed company environment, together with experience of operating in highly competitive customer-focussed markets."
The FTSE 100 has remained flat this morning, staying at 7,428pts while concerns continue over US-EU trade relations and Brexit uncertainty.
The early risers this morning include Wincanton (WIN), up 3.9% to 241p, Finsbury Food Group (FIF), up 3.8% to 68.5p, and Majestic (WINE), up 1.8% to 222.8p.
The early fallers include McBride (MCB), down 3.7% to 102.7p and Reckitt Benckiser (RB.), down 2.7% to 6,234p.
Yesterday in the City
The FTSE 100 closed lower, sliding 0.3% to 7,425p, as Brexit uncertainty and US-EU trade tensions dampened sentiment amongst investors.
Specialist cake retailer Cake Box (CBOX) rose 1.6% to 159p, after it posted a 6.5% like-for-like sales rise in the full year to March 2019.
Retail technology firm Eagle Eye solutions (EYE) was one of the top risers, surging 5.4% to 156.5p in yesterday's trading.
Other risers included Nichols (NICL), up 3.5% to 1,682.5p, Restaurant Group (RTN), up 3.3% to 115.6p, and Bakkavor (BAKK), up 2.9% to 133p.
One of the big fallers was Fuller, Smith and Turner (FSTA), which slid 4.3% to 1,120p.
Other fallers included Just Eat (JE.), down 2.5% to 720p, Morrisons (MRW), down 2% to 222,8p, and Fevertree drinks (FEVR), down 2,900p.