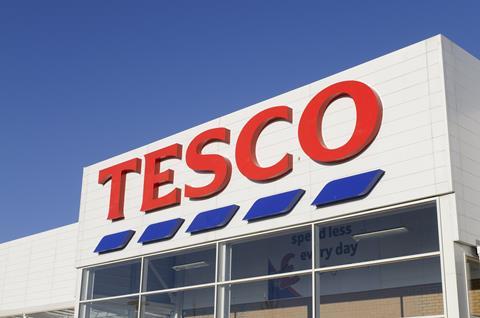 Top story
Tesco has lifted its outlook for the year as revenues and profits jumped in the first half.
CEO Ken Murphy said Britain's bigggest supermarket chain was winning shoppers from other retailers as it continued to sharpen its offer.
He added that food inflation slowed in the first half and was expected to continue falling over the next six months.
Group sales, excluding fuel, increased 8.9% to £30.7bn in the 26 weeks to 26 August, with volumes "stronger than anticipated".
Adjusted operating profits rose 13.9% to £1.5bn as the group made a further £290m of cost savings through its 'Save to Invest' programme.
Pre-tax profits were up more than 200% to £1.2bn thanks to a one-off non-cash charge of £626m bringing down the bottom line a year ago.
Tesco raised its guidance for the full year on the back of the "strong" performance, now expecting between £2.6bn and £2.7bn in retail adjusted operating profits, which don't include figures from Tesco Bank. It previously expected the figure to be closer to £2.5bn.
"We know how challenging it is for many households across the country, as they continue to grapple with ongoing cost of living pressures," Murphy said this morning.
"We are committed to doing everything we can to drive down food bills and Tesco is now consistently the cheapest full-line grocer."
Tesco had cut prices on about 2,500 products by the end of the half - from bread to broccoli - with average savings of 12%.
Murphy added that customers were "responding well", resulting in market share gains in store and online.
"We're seeing the results at both ends of the basket, with strong growth in our Finest range as shoppers look to save by treating themselves at home, voting with their feet as they switch from premium retailers to Tesco.
"This relentless focus on customers, combined with significant cost reductions from our 'Save to Invest' programme, has driven our strong performance in the first half of the year.
"Food inflation fell across the half and while external pressures remain, we expect that it will continue to do so in the second half of the year. We are in a strong position to keep investing for customers, and will continue to lower prices wherever we can - doing everything in our power to make sure customers can have a fantastic, affordable Christmas by shopping at Tesco."
Total revenues in the half, including fuel, rose 5% to £34.1bn, with petrol sales falling 20.5% as a result of lower year-on-year prices. Retail like-for-like sales were up 7.8% overall and by 8.7% in the UK.
The Booker wholesale operation boosted revenues 6.9% to £4.7bn in the half, a 7.5% like-for-like rise.
Morning update
The FTSE 100 opened 0.1% higher at 7,479.47pts.
Tesco jumped 3% to 267.4p as investors responded to higher profit expectations, lifting shares in Sainsbury's by 1.1% to 251.2p as sentiment in the sector turned more positive.
Other risers this morning included Tesco red meat supplier Hilton Food Group, up 5.9% to 736.8p, Greencore, up 2.1% to 73.2p and Nichols, up 2% to 999.6p.
Fallers included Naked Wines, down another 7.2% to 50.1p, and Hotel Chocolat, down 1.9% to 130.1p.
Yesterday in the City
The FTSE 100 fell 0.5% to 7,475.42pts yesterday.
Tesco shares were down 0.6% to 260.4p ahead of this morning's results, while Sainsbury's rose 0.7% to 249.4p, after the latest figures from the BRC showed a supermarket price war led to a month-on-month drop in food prices for the first time in more than two years.
Greggs sank back 3.6% to 2,390p despite a 21% jump in Q3 sales and signs cost inflation was easing.
Risers included Haleon and Unilever, up 1% to 341.3p and 0.6% to 4,050p respectively.
Naked Wines once again led the fallers, diving 7% to 53p.