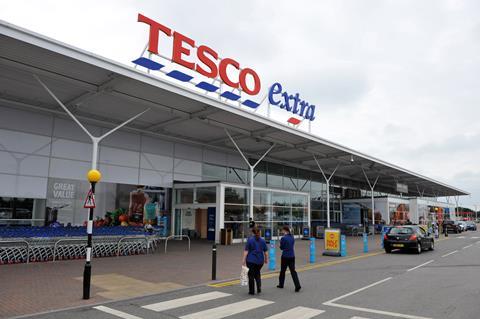 Top story
Like for like sales at Tesco (TSCO) rose 1.3% in the six week Christmas period, which Tesco described as a "significant improvement on recent results".
Its Christmas performance, which also saw positive like-for-like sales growth in its Extra format, included a rise in sales volumes by 3.5% and transactions increasing by 3.4%.
For the wider third quarter – the 19 weeks to 9 January – Tesco reported its first sales increase for over four years, with group like for like sales up by 0.4%.
UK third quarter like for like sales were down 1.5% during the period, which was impacted by a 1% sales drag from not repeating three '£5 off £40' national coupon campaigns from the prior year.
Total sales were in line with last year at constant currency rates, as the sales reduction from store closures slightly exceeded the contribution from new store openings. At actual rates, sales declined by 2.2% reflecting the strength of sterling, particularly compared to the euro.
Chief exec Dave Lewis commented: "Our Christmas performance was strong, benefiting from lower prices on an outstanding range of products. Our customer service improved materially and our colleagues went the extra mile. Put simply, we put customers at the heart of everything we did and they responded by buying more of what they needed at Tesco.
"We are continuing to focus our efforts on serving our customers a little better every day and I want to thank my colleagues across the Group for their commitment, passion and energy. There is plenty more to do, but we are making good progress and are trading in line with profit expectations for the full year."
Tesco shares are up 4.4% this morning in early trading to 165.2p on the back of the results.
Morning update
There are lots of trading updates to get through this morning on a hectic day for retail and fmcg in the City.
First up, Home Retail Group (HOME) is on the verge of completing the sale of Homebase to Australian retailer Wesfarmers opening the way up for Sainsbury's to firm up its interest in Argos. Home Retail stated that it is in "advanced discussions" for the potential sale for a cash consideration of £340m. Home Retail Group and Wesfarmers began discussions in September, due diligence commenced under a confidentiality agreement in October, and Wesfarmers provided a firm offer letter in November. Wesfarmers has completed its due diligence, and the parties are currently finalising transaction documentation.
Meanwhile, Home Retail has updated the market on a "challenging" period for Argos in the 18 weeks from 30 August 2015 to 2 January 2016, with like for like sales falling by 2.2% at Argos. Total sales at Argos in the period grew by 0.9% to £1.84bn as net new space contributed 3.1%, principally as a result of 95 digital concession stores in Homebase and Sainsbury's stores added within the past year. In the recent trading period the store portfolio increased by a net 4 stores to 844.
Elsewhere, Booker Group (BOK) sales, including Budgens and Londis, rose by 10.5% on the same period last year. Booker Wholesale with Makro saw non tobacco sales reduced by 1.3% on a like-for-like basis. They were impacted by deflation in food prices and many customers reporting weak consumer demand during the period, Booker said.. Tobacco sales continued to be adversely impacted by the ban on small stores displaying tobacco products, down 6.9% like-for-like.
Charles Wilson, Booker chief executive, said: "Booker Group continued to make progress in a challenging market. Our plans to Focus, Drive and Broaden remain on track. Budgens and Londis are settling into the Group well as we continue to improve choice, prices and service for all our customers."
Associated British Foods (ABF) has issued a trading update for the 16 weeks to 2 January 2016, with group revenue up 3% ahead of the same period last year at constant currency, but 2% behind at actual exchange rates.
Sales at Primark were 7% ahead of last year at constant currency in line with the increase in retail selling space over the year – total sales were 3% ahead at actual rates of exchange. AB Sugar continues to make "good progress with its performance improvement programme", while grocery has made further margin progress.
The underlying trading outlook for the group is unchanged, ABF said. "Investment in expansion opportunities will continue, most notably for Primark, and there is increasing evidence that our expectation of stability in sugar profit ahead of EU quota removal in 2017 will be realised."
Group sales at B&M European Value Retail (BME) for the 13 weeks ending 26 December 2015 increased by 23.5% on a constant currency basis and by 22.8% (down from 28.8% last year) on an actual currency basis, to £647.8 m.
UK sales revenue for the 13 week period increased by 24.4% to £614.5m with like-for-like sales falling by 0.7% in the quarter. The company said: "This performance reflects our successful store opening programme, as well as the combination of mild temperatures impacting the sales of cold weather products and the previously reported lower than normal service levels from our two new Distribution Centres." However, it said B&M enjoyed a strong Christmas trading period with positive like for likes.
Simon Arora, chief executive, said: "I'm delighted to report a record Christmas season for B&M, once again demonstrating the popularity of our model, despite a challenging trading period for the whole retailing industry in the UK. At our Christmas peak, we served over four million customers in a single week and we continue to gain market share. The business has delivered a resilient performance through peak trading despite the operational challenges of commissioning two large new distribution centres so late in the year.
McColl's Retail Group (MCLS) "traded well" over the Christmas and New Year period, with total sales up 3.3% in the 6 weeks to 10 January, fuelled by its convenience store expansion programme. Like for like sales were down by 0.7%, but this was a 1.1% improvement compared to quarter 4 2015. Also during the six week period it has exchanged contracts on a further 9 store acquisitions, which will see the group exceed 900 convenience stores in the first quarter of 2016.
Hilton Food Group (HFG) has released a brief trading statement for the 53 weeks ended 3rd January 2016 ahead of its full year results on 31 March 2016. The group has performed "ahead of the board's expectations" this year. In Western Europe additional volumes were delivered in both the UK, which benefitted from the recent capacity expansion, as well as in Holland, partly offset by lower demand in Denmark, whilst volumes in Sweden remained steady and in line with expectations in the "competitive environment" in central Europe.
Finally, Tesco has two new non-exec directors. Alison Platt, chief executive of property group Countrywide, and Simon Patterson, MD of tech investment firm Silver Lake Partners, will join the board from 1 April 2016. Platt will join the remuneration committee and Patterson will join the Audit Committee.
The FTSE 100 has opened 1.8% lower at 5,853pts after weak trading in Asia overnight and the falling global oil price.
B&M has surged 6.6% this morning to 273.5p after its encouraging trading figures, but Booker has dropped 4.3% to 159.4p after its own update.
ABF has edged 0.6% down to 3,024p this morning, while Morrisons (MRW) has lost 3.1% to 162.3p after Tesco's strong Christmas trading put its own in perspective. Sainsbury's is down another 0.6% to 246.2p this morning, while Home Retail is up 3.1% to 154p, which is its highest point since August.
Yesterday in the City
Despite Sainsbury's best efforts to extol the virtues of its potential Home Retail/Argos deal, investors are still to be convinced buying Argos represents strategic sense.
The supermarket issued a solid trading update considering the pressure on UK retailers, with like for like sales over the third quarter down just 0.4% (excl. fuel) and total revenues rising 0.8%.
It also issued a presentation laying out the benefits of a tie-up with Argos, but the market was left cold, sending Sainsbury's down by 1.4% to 247.7p.
In contrast Morrisons continued to make progress after its own Christmas trading update beat market expectations on Tuesday, rising another 1.1% to 167.4p, while Tesco was 1.9% up ahead of this morning's upbeat trading statement, rising 1.9% to 158.1p.
Overall the The FTSE 100 closed back up 0.5% to 5961pts after a second day of modest gains.
There was little dramatic movement for UK grocery and fmcg stocks, though Real Good Food (RGD) fell 7.2% to 44p and Poundland continued its bad recent run, falling 2.3% to 163.9p.
Elsewhere, Unilever was 1.2% up to 2,860.8p as some better economic news filtered out of China and Reckitt Benckiser was up 1.1% to 6,143p.