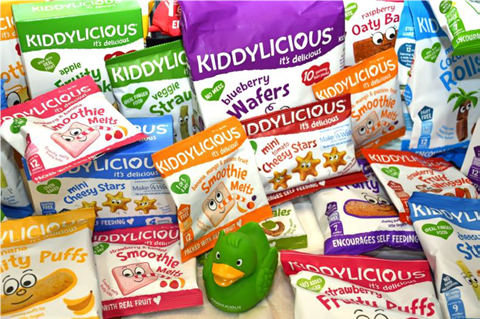 Top story
Bear, Nakd and Kiddylicious owner Lotus Bakeries grew its annual revenues and profits last year, boosted by the international rollout of its Biscoff brand and the strong performance of natural snacking.
In 2019 the Belgian food group grew sales by 10.1% to €613m as solid growth in the first half of the year continued in the second half.
The figures were boosted by the incorporation of Kiddylicious for a full year, which accounted for 2.4% of growth.
Its Lotus Biscoff spread and ice cream brand grew "most strongly in absolute terms" as its grew its international footprint. Strong growth continued in US, UK, France and China, while it also posted growth in South Korea, Australia, Spain, the Czech Republic and Switzerland.
2019 saw the launch of Biscoff Ice Cream internationally – already sold in Belgium and the Netherlands, it was introduced into supermarkets in the US, UK, France and South Korea in the year.
Its Natural Foods arm, which includes UK acquisitions Bear, Nakd and Kiddylicious, also achieved double digit growth. Nakd's growth was supported by its first TV ad campaign, Bear saw turnover grow "strongly" internationally, while Kiddylicious "continues to growth strongly in the UK" through NPD and distribution expansion.
Lotus posted a recurrent operating profit (REBIT) of €102.9m, up by €7.9m year-on-year or 8.3%.
Pre-tax profits were up 10.6% to €98m.
The increased turnover was coupled with a positive sales and operating margin contribution.
During the year the newly built Bear factory in South Africa officially become part of the group in June and made a positive contribution to the operating results.
In 2018 and 2019 Lotus invested more than €200m in the acquisitions of Kiddylicious and the Bear factory in South Africa as well as major capex projects, including a Biscoff factory in the US.
Morning update
On the markets this morning, the FTSE 100 has started the week down 0.4% at 7,434.4pts so far today.
Early risers include Premier Foods (PFD), up 36.9%, Marston's (MARS), up 1.4% to 104.5p and Associated British Foods (ABF), up 0.7% to 2,713p.
Fallers include McColl's (MCLS), down 4.2% to 42.1p, McBride (MCB), dwn 1.9% to 63.8p and SSP Group (SSPG), down 1.7% to 656p.
This week in the City
This week is headlined by Ocado's (OCDO) full year results tomorrow, though there are plenty of major international fmcg firms posting full year results later in the week.
Ocado will reveal its first annual results since signing its joint venture agreement for its retail are with Marks & Spencer tomorrow morning. Also tomorrow, German online food delivery firm Delivery Hero will post its full year sales.
On Wednesday Heineken (HEIN) will issue its full year results alongside major US grocery retailer Ahold Delhaize (AD).
Thursday brings full year results from UK-listed Coca-Cola HBC (CCH) and fellow European Coke bottler Coca-Cola European Partners (CCEP), while annual results will also be posted by Nestlé (NESN) and Pernod Ricard.
In the US PepsiCo (PEP) and Kraft Heinz (KHC) will release their respective full year earnings later on Thursday.
In economic news, the BRC-KPMG Retail Sales for January is out tomorrow morning, while UK industrial production and GDP figures are also out on the same day. Friday brings the official monthly ONS retail sales for the month.