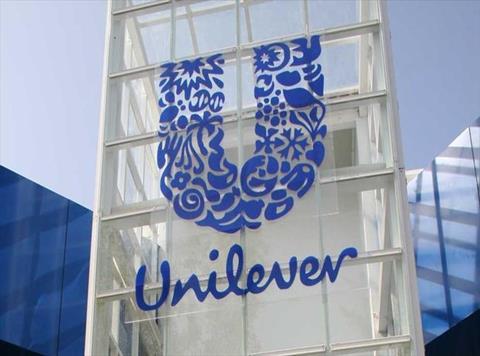 Top story
Unilever (ULVR) has topped City expectations with underlying sales growth of 3.1% in the first three months of the year.
The improvement in first quarter underlying sales was driven by both volume and price, with the former up 1.2% and the latter 1.9% in the period.
Overall performance was boosted by 5% growth in emerging markets and sustained momentum in South East Asia and North Asia. Price growth in Argentina would have added a further 80bp to reported underlying sales growth, but was excluded because of the country's hyperinflationary status.
Total reported turnover decreased 1.6% to €12.4bn due to the disposal of spreads business, including Flora, which we completed in July 2018.
Commenting on his first quarterly results as CEO Alan Jope said: "We have delivered a solid start that keeps us on track for our full year expectations. Growth was led by emerging markets and was balanced between volume and price.
"Accelerating growth is our number one priority. It requires both great execution and a continued strategic shift into faster growth segments and channels. We saw good performance in key growth channels including out of home and e-commerce and benefited from stronger global innovations and faster and more relevant local innovation. The acquisitions we have made since 2015 collectively grew double-digit in the first quarter. With the leadership changes announced in March, we are building the right team to drive our growth agenda."
On a segmental basis, Foods & Refreshment underlying sales grew 1.5%, driven by a strong start to the year for ice cream, whilst sales in tea and savoury were flat. Dressings, which was impacted by continued high promotional intensity and the later timing of Easter, declined.
Beauty & Personal Care posted underlying sales grew 3.1% as skin care and deodorants had a good start, whilst hair and skin cleansing grew modestly and oral care declined due to challenging market conditions.
Home Care underlying sales grew 6.0% as fabric solutions and home and hygiene had a strong start whilst fabric sensations grew modestly.
Geographically, European underlying sales grew 0.7% with 0.8% from volume and slightly negative pricing. Underlying sales in both North and Latin America were up 0.4%, with underlying sales in Unilever's "Asia/AMET/RUB" region jumped 6% with more than half from volumes.
For the full year Unilever continues to expect underlying sales growth to be in the lower half of its multi-year 3% - 5% range, while posting an improvement in underlying operating margin.
Unilever shares have jumped 2.5% in early trading to 4,485.5p.
Morning update
Fellow consumer giant Nestlé (NESN) has also posted first quarter organic growth ahead of expectations this morning.
The world's largest consumer group posted organic growth of 3.4%, with continued volume growth of 2.2% and a pricing increase of 1.2% as it experienced a significant improvement in Brazil and the United States.
Total reported sales increased by 4.3% to CHF22.2 billion (£16.9bn) as acquisitions, notably the global Starbucks license and Atrium Innovations, had a net positive impact of 1.2% and foreign exchange reduced sales by 0.3%.
The growth acceleration was largely driven by Brazil, its fourth largest market, while the US and China, Nestlé's two leading markets, maintained "good momentum".
Organic growth in its EMENA division was 2.1% despite a low-growth environment in Western Europe, with volume growth of 3.1% and a pricing decline on 1%.
Overall organic growth for the Group was 1.2% in developed markets and 6.3% in emerging markets.
All product categories saw positive growth. The largest growth contributions came from Purina petcare, dairy and infant nutrition.
Nestlé CEO Mark Schneider commented: "We are pleased with Nestlé's solid organic sales growth in the first quarter, building on our full-year 2018 momentum. Our increased speed, innovation for a changing world and execution focus are clearly paying off. We confirm our outlook for the year."
"In the quarter, we announced the launch of a new range of 24 premium coffee products under the Starbucks brand. The Nestlé and Starbucks teams did an outstanding job and developed these products in just 6 months."
"The notion of business as a force for good resonates very strongly inside Nestlé. Starting with this report, we will highlight each quarter how Nestlé creates shared value. We will begin by showing how Nespresso delivers on its commitment to quality and sustainability."
Nestlé also said its portfolio management efforts are "fully on track", with the strategic reviews of Nestlé Skin Health and Herta charcuterie (cold cuts and meat-based products) expected to be completed by mid- and late 2019, respectively.
The group confirmed full-year guidance for 2019, with continued improvement in organic sales growth and underlying trading operating profit margin towards its 2020 targets. Both underlying earnings per share in constant currency and capital efficiency are expected to increase.
Nestlé shares are up 0.9% this morning to CHF95.95
Elsewhere, PZ Cussons (PZC) has issued a short trading update for the year to 31 May 2019.
The health and beauty goods maker said full year profit expectations remain in line with the guidance issued at the time of the interim results in January.
A further trading update will be made on 13 June 2019 after the close of the financial year and full year results will be issued of 23 July.
On the markets this morning, the FTSE 100 has opened down 0.3% to 7,451.3pts.
Early fallers include C&C Group (CCR), down 1.4% to €3.30, Stock Spirits (STCK), down 1.1% to 216p and Reckitt Benckiser (RB), down 0.9% to 5,813p.
Risers, Unilever apart, include Bakkavor (BAKK), back up 2.2% to 128.8p, Hilton Food Group (HFG), up 1.6% to 970p, Imperial Brands (IMB), up 1.2% to 2,541.5p and Tate & Lyle (TATE), up 1.1% to 744.4p.
Yesterday in the City
The FTSE 100 ended the day flat to consolidate this week's gains at 7,471.3pts.
However, there were some notable consumer fallers yesterday, including retailers WH Smith (SMWH), down 2.4% to 2,084p, Sainsbury's (SBRY), down 2% to 226.6p and Greggs (GRG), down 2% to 1,823p.
Other fallers included Bakkavor (BAKK), down 3.9% to 125p, Britvic (BVIC), down 1.6% to 916p, Devro (DVO), down 2.2% to 178.6p, Glanbia (GLB), down 2% to €17.00 and Science in Sport (SIS), down 1.5% to 50.75p.
Risers included Finsbury Food Group (FIF), which jumped 6.5% to 82p, Greencore (GNC), up 3.3% to 224.7p, Hotel Chocolat (HOTC), up 1.7% to 353p and Applegreen (APGN), up 1.7% to 478p.
In Paris Danone (BN) ended the day down 0.1% at €69.60 after posting its first quarter results, while PepsiCo (PEP) gained 3.6% to $127.01 on the back of the issuance of its own first quarter results.