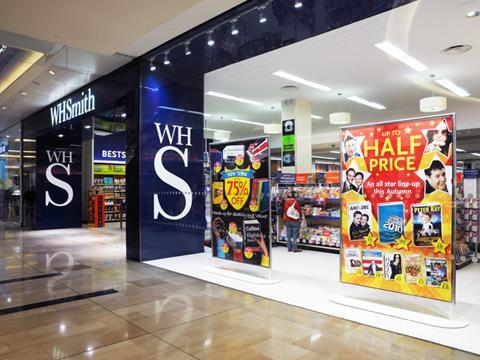 Top story
The emergence of the Omicron variant stalled the recovery at the WH Smith travel business, but it still put in "a good performance" on the high street in the run up to Christmas.
Group revenue at the retailer in the 20 weeks to 15 January came in at 85% of 2019 levels. The business did no reveal a year-on-year comparision.
The trading update ahead of today's AGM, showed high street numbers for December stood at 90% of pre-pandemic levels, despite reduced footfall, while travel was 83%, a slowdown of the 94% recorded for November.
WH Smith said it had seen "a consistent and encouraging recovery" in travel before the Omicron variant hit.
In the UK, total travel revenue for the 20 weeks was just 70% of 2019 figures as both air and rail sites saw sales fall back from November levels in December, while hospital outlets increased sales.
Overall revenues in North America, however, hit 92% of 2019 levels for the 20-week period, but Asia continued to recover more slowly and Europe was broadly similiar to UK trends.
WH Smith added its online businesses, funkypigeon.com, cultpens.com and whsmith.co.uk, all performed "strongly" over the 20 weeks and the high street stores maintained good availability over the peak trading period.
CEO Carl Cowling said: "We are pleased with the progress the group has made in the period.
"As we enter our 230th year since the company's founding in 1792, I would like to thank our entire team across the globe. In particular, my thanks go to our store colleagues who have worked tirelessly over the past number of weeks throughout such a busy trading period. We have an exceptionally strong team at WH Smith and we look forward to building on the strong foundations we have in place.
"Looking ahead, although we are seeing a small impact from the Omicron variant, we anticipate a resumption in the recovery of our travel markets over the coming months. We are well placed for the key trading period in Travel this summer and the ongoing recovery in our markets."
Shares in WH Smith soared 4.5% to 1,623p on the optimistic update as markets opened this morning.
Morning update
Inflation has continued to surge in December as the cost of living crisis hit its highest level in almost 30 years, according to official figures this morning.
The UK consumer price index (CPI) increased to 5.4% last month, up from 5.1% in November, the Office for National Statistics (ONS) reported.
The last time inflation was higher was in March 1992, when it hit 7.1%.
Rising food and non-alcholic drink prices contributed to the hike last month, with bread, cerals, meat and veg all more expensive.
Furniture, clothing, energy bills and other household costs and services also pushed up prices in December.
"These large rises were slightly offset by petrol prices, which despite being at record levels were stable this month, but rose this time last year," ONS chief economist Grant Fitzner said.
Inflation is much higher than the Bank of England's 2% target, with forecasts of further rises past 6% to come.
Revenues have jumped by a quarter at performance nutrition company Science in Sport, helping profits double in 2021.
A trading update revealed, sales grew 25% to £62.7m last year, with premium lifestyle brand PhD Nutrition up 19% to £29.7m and endurance brand SIS up 30% to £33m.
The group said product innovation had delivered 32% of revenue growth in 2021.
Online sales rose 40% year on year to £35m, with a new record set over peak November trading and sales in the US market up by 46%. Online now contributes more than half of total group revenues.
Despite taking a hit from pandemic restriction, UK retail sales rose 12% to £18.1m, while international figures were up 4% to £9.7m.
Underlying EBITDA increased to £2.2m during the year, despite the infltaionary headwinds.
CEO Stephen Moon said: "The group has performed well and delivered profitable revenue growth. This very encouraging performance reflects the strength of our premium brands which continue to drive strong underlying EBITDA growth.
"Prospects for further progress in 2022 look strong, and our long-term growth strategy remains unchanged."
Sausage casing manufacturer Devro has reported "encouraging" revenue growth of 5% in 2021 thanks to "positive developments" in volume, price and mix helping both mature and emerging markets.
The group said it expected operating profits to be line with expectations, representing in excess of 10% growth.
Devro is set to announce its full results on 2 March.
The FTSE 100 is down 0.1% to 7,556.76pts following the latest UK inflation figures.
Science in Sport is up 1.3% to 69.4p and Devro increased by 1.6% to 205.1p after this morning's updates.
Other early risers include Marks & Spencer, up 1.7% to 225.8p and Nichols, up 3% to 1,390.4p.
Parsley Box Group is down a further 4.5% to 32p, while Fevertree Drinks saw some profit taking from yesterday's rise to fall 1.8% to 2,553p.
Yesterday in the City
The FTSE 100 slipped back 0.6% to 7,563.55pts yesterday.
It was yet another painful day for THG as shares plummetted 9.6% to a new all-time low of 167.7p. Investors were spooked after the group warned it would miss its profit margins goal for 2021. It came despite record annual revenues of £2.2bn, a rise of almost 40% year on year.
Unilever also endured a second torrid day as shares sank a further 3.9% to 3,520.5p, taking cumulative losses so far this week past 10%, wiping almost £10bn of its market cap.
Other fallers included Nichols, down 5.9% to 1,350p, Glanbia, down 4.3% to €12.58, and, over in the US, Hain Celestial, which slumped more than 10% after announcing a new CFO and flagging falling sales in its second quarter.
Hotel Chocolat Group enjoyed a good day as shares rose 2.3% to 521.5p after it reported a 37% jump in revenues in the run-up to Christmas.
Risers included Fevertree Drinks, which climbed 3% to 2,600p following a broker upgrade by Jefferies from 'hold' to 'buy', Devro, up 2.8% to 202p, and Sainsbury's, up 2.1% to 298.7p.