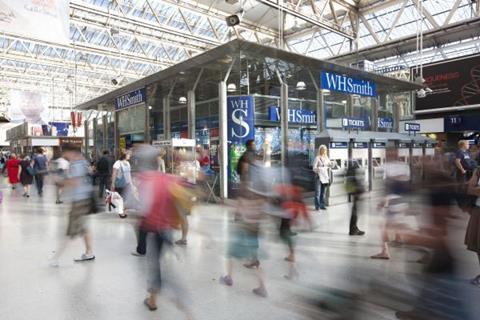 Top story
WH Smith (SMWH) has said its revenues slumped by 85% year-on-year in April amid widespread lockdowns and a collapse in air travel as the coronavirus outbreak has a "significant" impact on its business.
Announcing its interim results for the six months to 29 February, the retailer said its travel business had seen a 81% decline in April while high street revenues were down 74%.
However, the coronavirus outbreak had little impact on its six month results.
Group revenues for the interim period rose 7% to £747m, with group like for like revenues down 1%.
Total Group revenue was up 7% compared to last year at £747m (2019: £695m) with Group LFL revenue down 1%.
Travel had a particularly strong performance, rising 19% to £432m and up 2% on a LFL basis driven by company initiatives and ongoing investment.
High street like for like revenue was down 4% with total revenue down 5%, though margins continued to improve.
Group profit from trading operations increased to £93m from £92m in the comparable period, with headline group profit before tax edging back to £80m from £81m.
Including non-underlying items (relating primarily to the acquisition of US travel retail business MRG) group profit before tax was £63m compared to £65m a year ago.
However, since the close of its first half WH Smith warned the coronavirus has had a "significant impact on current trading".
Its UK travel business has seen a significant decline in passenger numbers as a result of travel bans, with the vast majority of our stores at airports and railway stations have been temporarily closed
Internationally, it is seeing broadly similar trends to the UK with all large airport stores closed
The group said its online businesses has "performed strongly", particularly in books where it has seen a 400% increase in sales during the past month
WH Smith said that plans on track for phased re-opening of stores in the second half, with a focus on driving spend per passenger across travel channels as stores re-open while continuing to invest in flagship new store formats across the UK and North America.
CEO Carl Cowling commented: "The emergence of Covid-19 and the associated global pandemic has affected all of us in ways that were unimaginable only a short while ago.
"Our primary focus over the past eight weeks has been to protect our colleagues across all areas of our business and our customers. We have supported many good causes and we have kept over 300 stores open to serve the communities that most need our services at this critical time, including the NHS and the communities that rely on the Post Office services we provide on the high street.
"There was very little impact of Covid-19 on our first half results, however inevitably the performance in the second half will be very different.
"We are a resilient and versatile business and with the operational actions we have taken including managing costs and the new financing arrangements, we are in a strong position to navigate this time of uncertainty and are well positioned to benefit in due course from the normalisation and growth of our key markets."
Morning update
Pub operator and brewer Marston's (MARS) has taken additional steps to strengthen its balance sheet to provide additional liquidity headroom and financial flexibility during the coronavirus crisis.
The company has agreed £70m of additional liquidity through an increased bank facility, subject to final documentation.
It said that it believes that this additional 180 day financing facility, together with ongoing Government support on employment costs, deferred tax payments and rent and rates relief, as well as continued income from beer sales into the off-trade, provide it with sufficient liquidity to meet obligations beyond the end of the financial year even if pubs were closed until then.
Meanwhile, it has reached agreement with our banks to amend the Company's covenants for September 2020 and March 2021.
Given the "uncertainty surrounding the re-opening of the pub sector and how that may be achieved" it believes the current lockdown could continue for some months.
Therefore it has decided to plan for the payment of no dividends for financial year 2020.
It stated: "The impact of COVID-19 on our financial and trading performance will depend upon how the situation develops and over what timescale, which remains uncertain.
"The Government has recently announced a recovery strategy to lift lockdown restrictions in phases, including the potential for pubs to reopen in early July. However, this timing is by no means certain and is, of necessity, subject to meeting targets relating to containing the virus and the ability to meet 'Secure COVID-19 guidelines'."
Coca Cola HBC (CCH) has announced John Sechi intends to retire from the board of directors at the conclusion of the AGM on 16 June, after serving as an independent director for six years.
The board proposes to elect Anna Diamantopoulou as a new member of the board and as a new member of the remuneration committee.
She is a former EU Commissioner for Employment and Social affairs and the founder and president of DIKTIO - Network for Reform in Greece and Europe, a leading Athens-based independent, non-partisan policy institute.
Subject to election at the AGM, Diamantopoulou's appointment will take effect immediately following the conclusion of the AGM.
On the markets this morning, the FTSE 100 has fallen another 1.6% to 5,808.4pts.
The biggest early fallers include Greencore (GNC), down 7.4% to 155.8p, Stock Spirits (STCK), down 5.7% to 215p, Marston's, down 3.3% to 29p and B&M European Value Retail (BME), dow 3.3% to 341p.
Risers include Devro (DVO), up 5.1% to 164.8p, Bakkavor, up 3.9% to 69.1p and PayPoint, up 1.5% to 683p.
Yesterday in the City
The FTSE 100 ended the day down 1.5% to 5,904.1pts yesterday on fears of a second wave of coronavirus infections as key markets begin to open back up.
Stock Spirits Group (STCK) jumped 17.5% to 228p after yesterday reassuring the market that the coronavirus outbreak had not hampered its trading.
Also on the up were Pets at Home, up 6.5% to 251.2p, Science in Sport (SIS), up 5.5% to 34.8p, Applegreen (APGN), up 5.2% to 284p, B&M European Value Retail (BME), up 3.8% to 353p, AG Barr (BAG), up 3.3% to 475.5p, Devro (DVO), up 2.6% to 156.8p and Ocado (OCDO), up 2.1% to 2,100p.
Yesterday's major fallers included Paypoint, which slumped 13.1% to 673p, Compass Group (CPG), down 8.2% to 1,146p, Bakkavor, down 66.5%, Marks & Spencer (MKS), down 7.2% to 86.3p, Greggs (GRG), down 5% to 1,482p, SSP Group (SSPG), down 4.5% to 220p, Britvic (BVIC), down 4.4% to 694.5p and DS Smith (SMDS), down 4.1% to 301.8p.