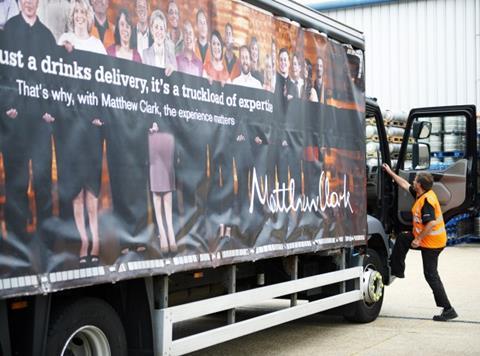 Booze giant Conviviality's shares plummeted this morning as the Bargain Booze and Matthew Clark owner warned of squeezed margins as it sought out greater market share.
The company's shares fell c19% from 302.5p to 285p over the course of the morning, wiping £132m from Conviviality's market cap in the space of just a few hours. They began to climb sharply again after noon, but at the time of writing, shares were down 12%.
A market source said the City had "completely overreacted" to the company's net debt coming in higher than analyst's predictions.
It comes as overall sales for the group for the 26 weeks to 29 October grew 9.2% to £836.3m, with Conviviality claiming "strong gains in market share". Adjusted EBITDA rose 1.7% to £23.3m.
Its gross margin was slightly negatively affected by a "significant increase in purchases from large national account customers", said CEO Diana Hunter. However, she stressed agreeing long-term contracts and securing new national accounts was "just a slightly different pathway to achieving profits".
The effect of this strategy was not yet fully visible, she said. "These customers bring much more efficient operations. You won't see it in these results, because the growth was so significant in the first half that we had to offset some of it with extra costs in labour. That will fall away in the coming months, because we've got a much more stable base, we've recruited more permanent labour and we're very comfortable with our sight-line into FY19."
Securing long-term contracts from bigger customers "isn't a bad strategy", said retail analyst Nicholas Bubb. "But it tends to come with a price."
Analysts at Investec said: "We view Conviviality as a multi-year growth story that can deliver market share gains."
Hunter also detailed plans to ramp up the booze offer of WS Retail, the former Palmer & Harvey subsidiary it acquired in December following P&H's collapse. "We will start in February to switch over supply to these stores from Conviviality, so we will be distributing to them direct from our warehouse in Crewe.
"Once we've started to transition WS to our own supply, then we will start to look at how the group of stores is performing and probably next year it's more than likely that we will start to guide on any particular growth".
Some of the 127 stores it acquired may convert to Conviviality's Select Convenience fascia, she added.
"We don't want to unnecessarily lose any of the ranging or the assortment that the stores have put in, so we will be gradually moving towards more of a Conviviality convenience proposition, which means increasing the proportion of space that we would normally allocate to alcohol."
Despite the drop this morning, Conviviality's share prices have consistently risen over the past year. They were up 86% in 2017 as the integration of acquired businesses Matthew Clark and Bibendum impressed the City.