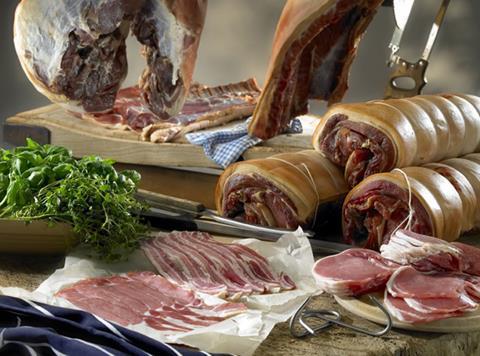 Revenues have soared by 27% at pork producer Cranswick (CWK) thanks to growing UK volumes and several new contract wins.
The group reported that like-for-like sales, excluding contributions from the acquired Dunbia Balleymena and Crown Chicken businesses, in the three months to 30 June grew 21% compared with a year ago.
Shares in the supplier jumped from than 3% to 2,914p on the back of the results.
Cranswick said strong domestic volume growth, with all product categories, led by cooked meats, sausages and pastry, making a positive contribution, underpinned the like-for-like growth.
The group also benefitted from several new contracts, including new cooked chicken and pastry wins.
Cranswick added it was caught up in rising input costs during the period, but these were "partially mitigated".
Pig prices are at a near seven-year high, nudging up in recent weeks to 165p per kg, compared with 155p at the end of March and 120p a year ago, but margins should improve as these are passed on in the coming months, according to analysts.
During the first quarter, further progress was also made on its new, purpose-built continental products factory in Bury, Greater Manchester, which will consolidate current production from its two existing facilities and provide substantial additional capacity to support future growth.
"Ongoing investment in our pork processing facilities both at Preston near Hull and at the recently acquired Ballymena site in Northern Ireland will also increase pig processing capacity and drive further operating efficiencies," the group said.
Net debt stood at £18m at the period end, some £4m lower than at the same point last year.
"The group is in a robust financial position with committed, unsecured facilities of £160m, which provide comfortable headroom," Cranswick added.
The pork producer said its expectations for the current financial year remain unchanged.