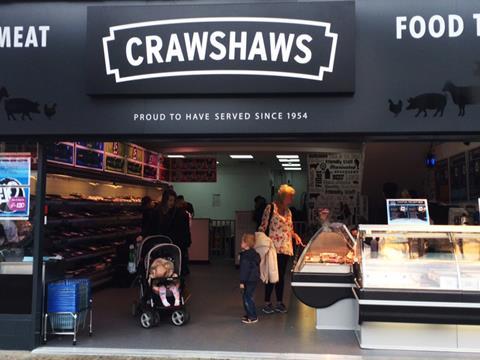 Like-for-like sales at value meat retailer Crawshaw (CRAW) has dipped as footfall on the street decline in recent months. Shares in the business fell 2.5% to 77p today as a result.
The business also revealed it had appointed Brakes CEO Ken McMeikan as a non-executive director, staring on 8 July. McMeikan has been in charge of Brakes since 2013 after five year leading bakery chain Greggs.
Crawshaw chairman Richard Rose said: "Ken brings a wealth of foodservice, food retailing and high street experience along with expertise in business strategy development during periods of accelerated high street expansion and sales growth. We are excited by Ken's appointment and look forward to him further strengthening our senior management team during our growth phase."
Crawshaw added in a trading update for the 20 weeks to 19 June that group sales were up 37% as a result of the rapid expansion of its stores, but like-for-like sales fell 1.9%.
The business blamed the decline in footfall that is affecting high street retailers in March, the timing of Easter, the start of the European football championships, bad weather and the build up to the EU Referendum. An additional eight shops were opened in the period, taking the portfolio to 47.
Cash margin generated in the like-for-like trading stores continued to perform strongly, however, and increased by 1% for the same period as the business continued to manage the balance of sales, CEO Noel Collett said.
"We have made a good start to the year. Our trading performance has been in line with expectations as we effectively manage the balance of sales and margin in our like-for-like estate, and our growth strategy continues to progress well," he added.
"In the last couple of weeks, we have seen some distorted and suppressed footfall patterns created through the combined impacts of the start of the international football championships, the adverse persistent weather and the build up to the EU Referendum. It is too early to judge if the vote to leave the EU impacts consumer confidence in the medium term, but clearly our retail format of quality fresh meat at value prices means we are well placed to delight new and existing customers with our offer should disposable income become stretched."