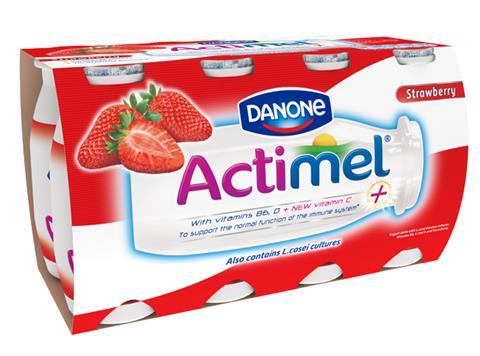 French food group Danone has beaten forecasts with like-for-like sales rising 4.6% in the third quarter thanks to double-digit growth in its baby formula division.
Consolidated sales to the end of September rose by 4.2% to €5.6bn (£4.1bn), with the organic growth coming from higher prices as volumes increased by just 0.8% - well below consensus of 1.8%. It pushes up revenues for the first nine months of 2015 to more than €17bn – a 4.6% like-for-like rise.
As well as the growth in the infant nutrition division for the quarter, Danone registered a 6.8% hike in sales of water and the dairy arm returned to positive growth. The group confirmed its 2015 targets of organic sales growth of between 4% and 5% and a slight rise in trading operating margin.
CEO Emmanuel Faber said: "Solid third-quarter organic sales growth of 4.6% confirms our progress towards sustainably anchoring a balanced profitable growth model for Danone. I am fully confident that we have long built unique positions in the best long-term potential food and beverage categories."
Investment bank Liberum said Danone remained its top pick in food. Analyst Robert Waldschmidt added that Faber had set out a clear strategy to deliver sustainable top and bottom line growth. "While clear execution risks remain, we see more upside than downside at current levels," he said. "We forecast category mix alone can drive acceleration in organic sales growth and trading margin over 2015-17 as dairy weighting in the total portfolio continues to diminish. We expect fresh dairy to also stabilize in 2015 and return to growth in 2016."
Europe was the best-performing region for the group, which produces Actimel and Activia yoghurt, Evian water and baby formula, with growth of 5.1%.
A breakdown of the divisions at Danone for the third quarter showed that the 10.6% rise in sales to €1.2bn at the baby food arm reflected a 3.7% growth in volume and a 7.2% increase in value with "solid performances" in all its geographical markets. The waters division reported a rise in sales of 6.8% to €1.3bn, driven by a 5.7% increase in volumes. Volumes fell 3.3% in the fresh dairy product division but sales finished 0.6% up thanks to a 3.9% hike in prices.