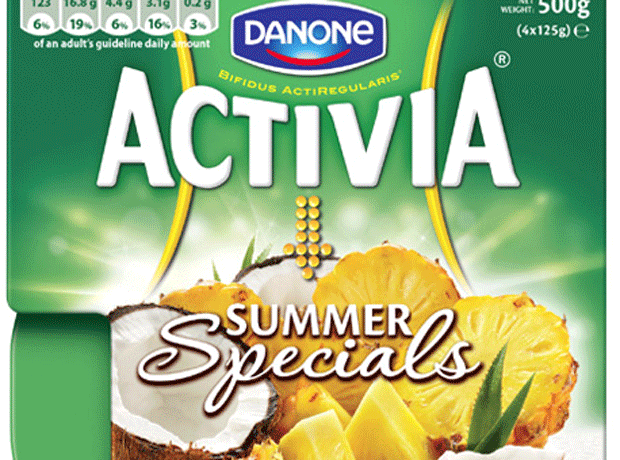 French dairy giant Danone (BN) just about stayed in growth in the second quarter and first half of its financial year as it struggled to battle industry challenges in Europe and North America.
Organic revenues increased 0.4% to €12.1bn (£10.8bn) in the first six months of 2017, with second-quarter figures up 0.2% to €6.7bn on a like-for-like basis. The results were just below analysts' consensus.
Price increases (+2.3%) helped offset declining volumes (-2.1%) at the group in the past quarter.
Its core dairy and plant-based division held Danone in the period, with like-for-like sales down 1.8% year-on-year to €2.2bn in the quarter and 2% in the half to €4.3bn, as the Activia brand continued to struggle despite a big relaunch last year.
The North American arm of the business also declined as the soft US food and beverage industry affecting Danone and its consumer staples peers continued to harm growth.
However, Danone said it expected growth to accelerate in the second half of the year, driven by new products and recipes, expansion of plant-based protein products, entry into white spaces and easier comparatives.
Revenues in the past three months jumped 16% when the $12.5bn WhiteWave acquisition, which completed in April, was included.
First-half operating profit grew 7.3% to €1.72bn (£1.5bn) on a like-for-like basis thanks to the cost savings and synergies from WhiteWave.
Danone CEO Emmanuel Faber said: "2017 is a pivotal year for the execution of our transformation agenda. H1 2017 has been a period of intense construction for Danone, with the creation of the processes of decoupling of our growth and efficiency agendas, the creation of our regional grid, the launch of our €1bn savings protein program and the integration of WhiteWave in Q2.
"As expected, the slow start of the year is the result of specific emerging markets' headwinds and challenges in Europe and in North America, balanced with significant successes in developing sustainable platforms in specialized nutrition in China, growing young and local dairy brands in Europe and executing the Dannon Pledge in the United States."
Its nutrition and water divisions recorded growth in the second quarter and first half, with sales in the former up 5.5% in the past three months and 0.3% in the latter.
Shares in the group recovered from early morning falls to trade as much as 2.6% higher than Wednesday's close before coming back down to finish 0.2% up to €64.51.
Analysts at Liberum said: "Danone remains on the path to profitable, sustainable growth. The company has indicated a "decoupling" of the group's mid-term growth agenda and immediate efficiency plans, implying Danone is focused on driving sustainable underlying profits and moving away from a growth at any cost mentality."