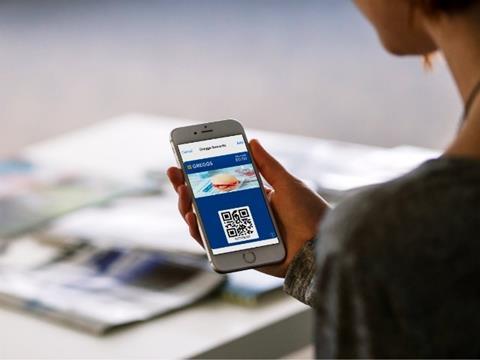 Top story
Grocery tech firm Eagle Eye Solutions (EYE) has recorded a 33% jump in sales to £14.8m for the year ended June 30 2018, but its losses grew and customer volumes remain below expectations.
In a trading update ahead of its audited results announcement, the company announced that volumes using its platform increased by 556% to 403.7m, from 61.5m in 2017, but remained "slightly behind group expectations".
Earnings before interest and tax, however fell back to a £2m loss, down from a £1.8m loss in the previous year.
The company saw recurring sales increase by 51% and now comprise 77% of its business, but the company was also buoyed by new clients including Boparan, Greene King and Google. It worked on food and beverage campaigns with brands including Bacardi, Old Mout and Gordons.
In May, the technology company partnered with Sainsburys to trial its Eagle Eye Air software in selected stores to create a more personalised Nectar card scheme.
Eagle Eye also highlighted its international growth, with the successful launch of loyalty programme Loblaw in Canada.
"The successful launch of PC Optimum for Loblaw, one of Canada's leading loyalty programmes, has now positioned Eagle Eye as one of the leaders in loyalty technology," said Tim Mason, chief executive of Eagle Eye.
"Outside the Loblaw project, we have continued to deliver against our strategy, which has seen us win new customers, increase transactions from existing customers and deepen our customer relationships both in the UK and internationally.
"Important investments have been made in the year and considering this, the delivery of our EBITDA position ahead of expectations is particularly pleasing. We are comfortable with our cash position and banking facility, giving us the headroom to support the Company's existing growth plans.
"The strong growth in recurring revenues in the year, our healthy pipeline of new business opportunities and our strong proposition, give us confidence in the ongoing success of the business."
Eagle Eye shares have slumped 13.5% to 147p in early trading on the results.
Morning update
The World Cup and recent warm weather have helped put brewer Marston's (MARS) back on track with expectations as it announced its results for the 42 weeks to 21 July.
The brewer and pub company said that the first half-year "affected by poor weather" was offset by the increase in drink revenue over the recent period.
Marston's now "expects to deliver underlying earnings in line with expectations for the full year."
Strong growth in the company cask and canned beer business, up 61% in volumes for the 42 week period, was driven by the acquisition of Charles Wells Brewing and Beer Business for £55m in May 2017.
Total managed and franchised pub sales increased 5.2% for the period, with 0.3% like-for-like sales growth.
Sales in its 'taverns' were boosted heavily by recent good weather and the World Cup, with like-for-like sales for the three quarters 3.8% ahead of last year, including growth of 5% in the last 16 weeks.
Like-for-like sales in its premium and destination category however fell 1.5% compared to 2017, with sales 1.2% behind in the most recent 16 week period.
"We are encouraged by our stronger trading performance in the second half-year, including the benefit of recent good weather and the impact of the World Cup in our Taverns estate and in Marston's Beer Company," said CEO Ralph Findlay.
"We have a strong pipeline of sites which will contribute to continued growth in pubs, and see further opportunity in brewing following the acquisition and successful integration of Charles Wells Brewing and Beer business in 2017.
"Our strategic objectives and progressive dividend policy remain appropriate for current market conditions and we remain confident of delivering underlying earnings in line with expectations for the full year."
The FTSE 100 fell 0.3% to 7,684pts in early trading as fears over Trumps tariffs continue to weigh down on the index.
Early risers include B&M European Value Retail (BME), up 4.2% to 428.3p, Greencore (GNC), up 2.4% to 179.4p and Stock Spirit Group (STCK), up 2.2% to 231.5p.
Early fallers include Fevertree Drinks (FEVR), down 1.6% to 3,592p, AG Barr (BAG), down 0.9% to 692.4p and Majestic Wine (WINE), down 0.65% to 457p.
Yesterday in the City
Kantar revealed that grocery sales jumped 3.6% in the 12 weeks to 15 July, the faster growth so far this year, as the World Cup and the prolonged hot weather boosted trading.
The FTSE 100 climbed 0.7% yesterday to 7,709pts as a rise in copper prices helped to boost the UK index.
Soft drink brands Fevertree (FEVR) and Britvic (BVIC) after publishing positive results despite the impact of the sugar levy, enforced since April.
Fevertree jumped 5.6% to 3,650p after it announced that group revenues for the first half of 2018 at the upmarket mixer brand were up 45% to £104.2m, driven by 73% growth in the UK.
Britvic climbed 4.5% to 814p after it reported a 3.4% increase in third quarter revenues to £366.9m, though revenue excluding the soft drinks levy fell 0.6% in the period as the CO2 shortage hit sales.
Other risers yesterday included McBride (MCB), up 4.1% to 142.8p, Treatt, up 2.7% to 453p and Majestic Wine (WINE), up 2.7% to 460p.
Yesterday's fallers included Science in Sport (SIS), down 4% to 72.4p, McColl's (MCLS), down 2.8% to 176p, Glanbia (GLB), down 2.3% to €14.80 and Carr's Group (CARR), down 1.9% to 154p.