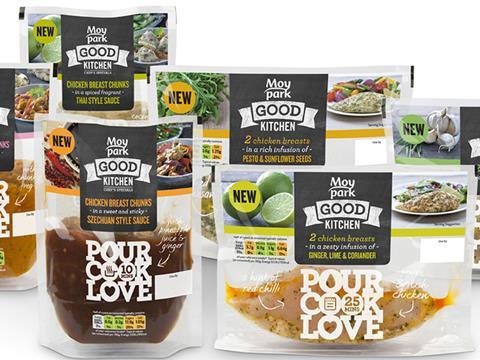 Northern Irish poultry producer Moy Park has reported a four-fold increase in pre-tax profit despite the "economic turbulence" and "uncertainty" resulting from Brexit.
The JBS owned chicken and prepared food supplier released its own annual financial results today after parent company JBS released its headline figures yesterday.
Moy Park revealed today that like-for-like revenues rose by 4.3% during the year to £1.44bn and profit before taxation rose by 334% from £9.4m to £40.6m.
Moy Park said: ""The company's strong full year performance was driven by factors including, growth in fresh poultry sales enabled by increased operational capacity, unrelenting focus on cost control, favourable exchange rate movements and margin improvement."
2016 showed volume growth of 3% when compared to the prior year.
The headline profit growth was also boosted by the £12.5m exceptional charge Moy Park incurred in 2015 related to the closure of its Wisbech site and IPO costs.
Like-for-like profit before tax was up 45.5% to £66.3m and like-for-like EBITDA was up 13.5% to £131.9m during the year.
Moy Park invested a further £51m during the year, including increasing capacity at its Dungannon facility, Ashbourne hatchery and Ashbourne factory.
It added that ongoing focus on cost control and realisation of synergies continued to help drive margin improvement, with EBITDA margin increasing by 110 basis points to 9.2%.
JBS' results earlier this week showed Moy Park's headline revenues decline 0.3% during the year to £1.44bn.
Like for like UK & Ireland sales increased by 1% to £1.08bn, driven by sales volume growth of 4% with strong fresh poultry sales and partially offset by commodity price deflation.
European revenue of €439m were 2% ahead of 2015 on a like for like basis.
In terms of outlook, the company stated: "All businesses are facing economic turbulence and uncertainty resulting from Britain's decision to leave the European Union.
"However, the combination of an experienced management team, an outstanding product portfolio and a robust financial position means that Moy Park is well-placed to consolidate and expand on its position as one of Europe's leading food companies."
CEO Janet McCollum added: ""We have delivered positive growth in EBITDA and profit before tax, and continued our strategic investment programme, positioning the company well for future growth. This strong performance was delivered against the background of a challenging grocery market."