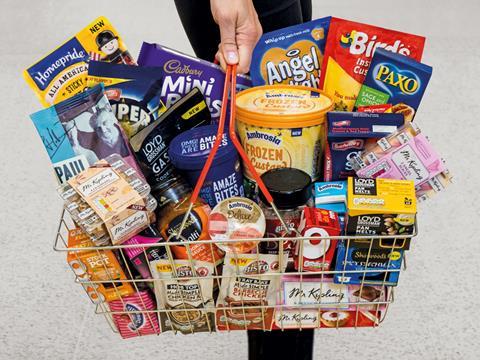 Top story
Premier Foods (PFD) has fallen to an annual loss of £42.7m as impairments and pension charges hit its bottom line, but core profitability improved in a further sign of "consistent progress".
Total group revenues for the 52 weeks ended 30 March 2019 were up 0.6% to £824.3m, with branded revenue rising 1.4% to £679.2m and private label sales falling by 2.7& to £145.1m.
Revenue growth slowed to 0.1% in the second half of the year, but a stronger fourth quarter saw sales grow 3.1% as it benefited from Brexit related stockpiling by customers.
Its grocery business increased sales by 1.3% to £597m, while its sweet treats division saw full year sales fall 1.2% to £227.3m due to a 20.3% drop in private label reveues.
Its international business struggled during the year, with sales down 12.5% as Cadbury cake sales were adversely affected in the year by elevated stock levels in Australian customers' supply chains. Additionally, price increases implemented for UK wholesalers who export some of the group's products also resulted in significantly lower sales.
On a statutory basis, Premier reported a loss before tax of £42.7m in the year – a significant drop from the profit before tax of £20.9m in its previous financial year.
The loss was driven by an impairment of goodwill and intangible assets, primarily related to a mark down in the value of its Sharwood's and Saxa brands, of £30.6m as well as costs of £41.5m relating to the recognition of Guaranteed Minimum Payments pensions charges related to the historic equal treatment of men and women.
Restructuring costs of £16.8m in the year almost double the previous year's figure, driven primarily by £14m of costs associated with the consolidation of the group's logistics operations to one central location.
However, the group's core trading profit was up 4.5% to £128.5m in the period as it reduced the depth of promotions, recovered input cost inflation and its marketing spend was slightly down year-on-year.
It reduced promotions on its Ambrosia brand in the year, which which resulted in lower volumes and revenue in the period but growth in profit contribution. Additionally, margins in the grocery business grew 2.1 percentage points in the first half compared to the prior year as it recovered margins that had been impacted by a "longer than expected processW to recover input cost inflation.
Consumer marketing investment was slightly lower compared to the prior year, although Premier said it expects to "significantly" increase its marketing investment in the current financial year with five of its major brands to benefit from media advertising in the year.
Net debt fell £26.5m in the year back to £469.9m – reducing its net debt/EBITDA ratio to 3.2X.
Acting CEO Alastair Murray commented: "Premier Foods has delivered consistent progress over the last two years, growing revenue, trading profit, adjusted earnings and reducing net debt.
"This year we plan to increase investment in both capital projects and consumer marketing, with up to five of our biggest brands expected to benefit from TV advertising. We have plans to launch an exciting new brand, 'Plantastic', using plant- based ingredients, in response to current consumer trends and we expect our International business to return to double digit growth in the coming year.
"While the first half of FY19/20 is expected to be slower than last year, reflecting the timing of marketing investment, we expect to make further progress over the next twelve months thanks to our continuing pipeline of new product innovation and strong customer relationships. We remain focused on reducing our levels of net debt and expect to deliver a similar level of debt paydown in the coming year."
Morning update
Food to go stalwart Greggs (GRG) grew like for like sales by 11.1% in the 19 weeks to 11 May as core sales continue to surge.
Total sales were up 15.1% in the period in its first quarter, building on a strong finish to its 2018 financial year and boosted by a glut of publicity surrounding the launch of its vegan-friendly sausage roll.
Since year-end sales have continued to grow "very strongly", helped by the roll-out of vegan sausage rolls to all shops following limited availability in the early part of the year when demand outstripped supply.
Sales at breakfast, including its fairtrade coffee and other hot drinks, are continuing to grow strongly, as is its post-4pm pizza deal. Sales of traditional sweet bakery products are also benefiting from efforts to improve quality.
In the first 19 weeks Greggs opened 38 new shops, including 10 franchised units in transport locations, and closed 22 shops, giving a total of 1,969 shops trading at 11 May (comprising 1,700 company-managed shops and 269 franchised units).
Greggs said the "exceptional" level of like-for-like sales growth that began in January has been sustained in the months that have followed, driven by increased visits to stores.
The sales comparatives from 2018 become progressively stronger as the year progresses, but Greggs now anticipates materially higher sales for the 2019 year as a whole than had previously been expected.
Greggs said: "Whilst there have been some increases in input costs, we expect overall cost inflation to be broadly in line with our plans for the year. In the balance of the year we plan to increase investment in strategic initiatives that will deliver further long-term growth."
Therefore underlying profits (before exceptional costs) for the year are now expected to be materially higher than previous expectations.
Elsewhere, Eastern European-focussed drinks group Stock Spirits Group (STCK) has reported first half growth in revenues, volumes and EBITDA despite the late Easter period.
The group grew volumes by 6.8%, revenue by 9.7% to €156.9mand adjusted EBITDA by 5.8% to €33.5m.
Both its Polish and Czech businesses, which together represent over 80% of the group's sales, delivered "good" growth in market share, sales and profits.
In particular, the vodka category in Poland continues to grow in both volume and value - especially the flavoured category and the more premium segments - as a result of increasing consumer affluence.
In the Czech Republic, three of the four main spirits categories - rum, vodka and whisky - are in volume and value growth, which has more than compensated for a contraction in herbal bitters.
The group has also announced today the acquisition of Bartida, a high-end on-trade spirits business in the Czech Republic, for an initial consideration of €7.3m with an additional deferred consideration of up to €3.7m over five years.
CEO Mirek Stachowicz commented: "We delivered a strong organic growth performance in our core markets of Poland and the Czech Republic in the period, achieving strong increases in market shares, volume, revenues and profit. Looking to the future, the recently announced acquisitions in Italy and the Czech Republic are a clear sign that we are committed to delivering growth both inorganically and organically.
"Overall, we believe that the strength of our brands and our strategy means that Stock Spirits is well positioned for further success."
On the markets this morning, the FTSE 100 has recovered 0.7% to 7,215.1pts.
Greggs shares have surged 11% to 1,987p on this morning's news, while Stock Spirits has fallen back 0.9% to 232p. Premier Foods shares are flat at 35.8p.
Early risers include Bakkavor (BAKK), up 3.7% to 129.6p, AG Barr (BAG), up 2.2% to 854p and Just Eat (JE), up 1.5% to 662.6p.
Fallers include C&C Group (CCR), down 2.1% to €3.45, Hilton Food Group (HFG), down 1.9% to 1,020p, Hotel Chocolat (HOTC), down 1.4% to 350p and Imperial Brands (IMB), down 1.2% to 2,146p.
Yesterday in the City
The FTSE 100 started the week falling back 0.6% to 7,163.7pts yesterday as fears over the US/China trade war mount.
On a slow news day in the grocery sector the supermarkets were amongst the major FTSE losers, following some gloomy analyst predictions over the future of Sainsbury's after the collapse of its merger with Asda.
Sainsbury's (SBRY) itself fell back 2.9% to set another multi-year low before closing at 205.5p. Tesco (TSCO) also dropped 1.8% to 237.8p and Morrisons (MRW) lost 1.7% to 211.7p as sentiment around the whole sector soured. Ocado (ODCO) fell back 1.5% to 1,319.5p.
Other fallers yesterday included PureCircle (PURE), down 3.7% to 260p, McBride (MCB), down 3.4% to 86.3p, Nichols (NICL), down 3% to 1,785p, Mitche;;s & Butlers (MAB), down 2.7% to 238p and FeverTree (FEVR), down 2.7% to 238p.
The day's few notable risers included Hilton Food Group (HFG), up 2.4% to 1,040p, CARR's Group (CARR), up 2% to 151p, AG Barr (BAG), up 1.8% to 836p, Stock Spirits (STCK), up 1.7% to 234p, Compass Group (SPG), up 1.4% to 1,730.5p and SSP Group (SSPG), up 1% to 691p.