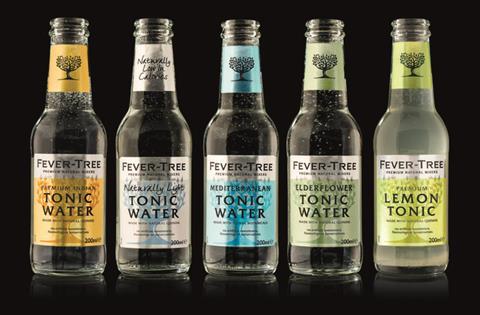 Fever-Tree's founders are relaxed about the impending entry of Britvic in the premium mixers category after its revenues soared 69% to £40.6m in another bumper first-half performance.
Pre-tax profits jumped 79% to £11.8m in the six months ended 30 June, with gross margins improving more than four percentage points to almost 55%.
The business said it had seen strong growth across all regions, with a particularly notable performance in the UK off-trade as it gained new distribution during the period, most noticeable with Asda.
Shares spiked 4% to hit a new record of 845p during morning trading before settling to close 1.1% up at 816.7p.
Earlier this month The Grocer exclusively revealed that Britvic was set to challenge Fever-Tree's dominance of the category with the launch of a completely new range later this year.
Fever-Tree CEO and co-founder Tim Warrillow told The Grocer today that any potential rivals would struggle to compete with its growth rates, highlighting the latest results coming despite Coca-Cola Enterprises investing in the biggest campaign in 20 years for Schweppes.
"Just because you have the ambition in the category or a brand in an adjacent category it doesn't guarantee you any success," he said. "Britvic has always historically struggled in mixers.
"We are not complacent of competition but it is not easy to compete when a brand is performing as well as Fever-Tree is. We spent such a long time at the beginning establishing the credentials and that is not something that is easily replicated in an innovation department in a big company.
"We will watch their plans and ambitions with interest and do all we can to stay ahead."
The UK, where the launch of the 150ml can format helped drive growth, remains the biggest market for Fever-Tree, increasing to 39% of group sales with revenue growth of 108% to £15.8m in the half. But the majority of sales come from overseas, where it is available in more than 50 countries, with growth of 59% in the US to £9.2m, 42% in Continental Europe to £13.4m and 73% to the rest of the world to £2.2m.
Investment bank Investec said the improved gross margin in the period reflected the benefit of a weaker pound, as well annualised buying benefits on costs such as glass and bottling charges. However, currency gains were reversed in administrative costs, with a £1.4m loss on hedging contracts.
Fever-Tree finance director Andy Branchflower added that, despite some upsides expected to stem from the result of the EU referendum, Brexit had a neutral impact on the company.
"We do have some local spend on product cost side but not significant enough to upset that upside," he said. "In the short term, if the rates stay as they are, there will be some upside but it is not going to be significant. Longer term, we have a flexible business model and can manufacture close to our markets and in Europe if that is required depending on negotiations and the potential for tariffs to be put in place in a couple of years' time."