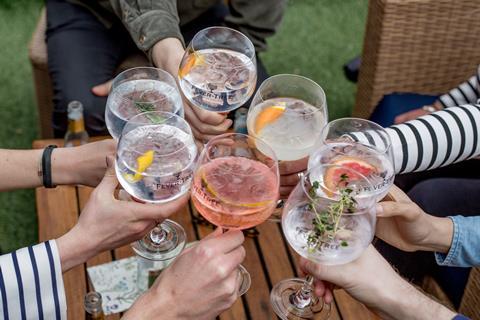 Top story
FeverTree Drinks (FEVR) has warned its annual performance is due to fall "below expectations" despite guiding for a near 10% sales increase.
The premium mixers provider's revenues are posed to hit £260.5m in 2019, up 9.7% from £237.4m last year reflecting "significant progress" across most of its regions.
"However, this performance is below the board's expectations, primarily reflecting subdued Christmas trading in the UK," the company said.
Margins have also ended the year "behind expectations" and annual earnings are now guided 5% lower than 2018, following continued investment in the brand for the longer term.
UK revenues for the year are expected to fall 1% to £132.6m among the challenges of the wider retail environment. The mixers category, the company added, was "not immune" from weak consumer confidence and spending slowdowns.
"Whilst FeverTree remained the clear market leader, the expected improvement in trading during this important period did not materialise with the macroeconomic uncertainty leading to a subdued end to the year across both the On and Off-Trade," FeverTree said.
Looking ahead, the company expects conditions to remain challenging in the first half of 2020 but, it is confident it will return to growth in the year due to brand strength, operational improvements, distribution opportunities and innovations.
US sales are due to jump 33% during the year to £47.6m, marking FeverTree's fastest growing market as the business continued to widen its distribution footprint.
The company will be further investing Stateside across 2020, with these initiatives expected to result in a one-off impact on net revenue growth.
US growth forecasts for 2020 have now been revised to low double digit for the year ahead before returning to previously expected growth rates thereafter.
"We are confident that this investment will drive significant long-term volume and profit growth in what is expected, over time, to become a very significant region," FeverTree added.
In Europe, sales are expected up 16% to £64.4m following good performances across key territories, while Rest of the World sales, including Canada and Australia, are guided up 32% to £15.8m.
FeverTree shares have crashed by more than 20% back to 1,580.5p, which is the company's lowest share price since early 2017.
Morning update
Distil (DIS) has reported a 7% increase in third-quarter revenues, supported by continued levels of "up weighted marketing investment".
Year-to-date sales however, decreased 13% at the owner of premium drink brands RedLeg, Spiced Rum and Blackwoods Gin and Vodka.
"Our key brands performed well in Q3, growing volume and value in a highly competitive and changing market place," chairman Don Goulding said.
"We maintained our increased levels of investment in marketing and promotional activity over the Christmas period and enjoyed strong customer support especially in Rum which increased volumes by 16% despite intense competition. This was partially offset by reduced volume in gin caused by changes in retailer listings as previously reported."
Goulding added the company's outlook for the fourth quarter remained positive, with full-year profit expected to be ahead of the previous year and in line with market expectations.
The FTSE 100 opened marginally lower at 7,673.50pts.
Distil shares rose 13% to 0.79p each.
Early risers included Just Eat (JE) up 0.6% to 890p, Premier Foods (PFD) up 1.1% to 42.45p and Sainsbury's (SBRY) up 0.4% to 217.20p.
Along with FeverTree, fallers include British American Tobacco (BATS) open 0.6% lower at 3,445p, Ocado (OCDO) down 0.3% at 1,330.50p and Cranswick (CWK) down 0.5% at 3,694p.
This week in the City
It is posed to be another quiet week in the UK with WH Smith (SMWH) reporting its third quarter results and hosting its annual general meeting on Wednesday.
On the same day, Ocado (OCDO) is set to host a business update call and internationally, Johnson & Johnson will release its annual results.
Thursday sees Procter & Gamble (PG) interim results and well as French supermarket group Carrefour's full-year figures and Costco's annual general meeting.
Meanwhile, Friday will end the week with pub group Marston's (MARS) first quarter sales figures and annual general meeting alongside Remy Cointreau third quarter sales.