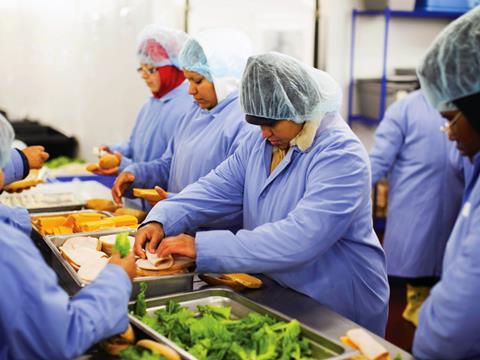 Top story
Greencore (GNC) has posted a 4.2% rise in annual sales from continuing operations after the sale of its US business as its food to go revenues grew by double-digits.
Reported revenue from continuing operations increased by 4.2% to £1.5bn in the year to 28 September.
Food to go accounted for over 60% of revenue from continuing operations, with reported revenue growth in these categories was 11.1% and pro forma revenue growth of 10.8% excluding the impact of its Heathrow sandwich facility acquisition.
This pro forma growth accelerated in the second half of the year and led to overall organic sales growth of 8.7% from continuing operations.
Adjusted Operating Profit rose by a more modest 1.7% to £104.6m, with adjusted operating margin down 20bps to 7%.
The profit figures include costs previously allocated to its US business and excluding this impact, adjusted operating profit rose by 3.6% to £110.6m as improved profits in food to go categories were partly offset by a decline in other activities, notably ready meals.
On this basis, Adjusted Operating Margin for FY18 was flat at 7.4% for the full year, with a year on year improvement of 30bps in the second half.
Greencore said this performance "was delivered against the backdrop of a UK trading environment which was characterised by retail competition, cost inflation, and operational disruption from adverse weather".
In food to go Greencore said "substantial investment in its distribution capability" in recent years had driven strong growth, while consolidation of the overall distribution market allowed this part of the business to grow faster than originally anticipated.
Revenue for the distribution of third party products accounts for just under 10% of sales in continuing operations
The other parts of the business comprise activities in the chilled ready meals, chilled soups and sauces, chilled quiche, ambient sauces and pickles, and frozen Yorkshire Pudding categories, as well the Irish ingredient trading businesses. Reported revenue across these businesses declined by 5.5%, but increased by 4.9% on a pro forma basis when excluding the disposed and exited businesses in Hull and Evercreech respectively, as well as foreign exchange movements.
Raw material and packaging costs rose by approximately 3% in the year, while labour inflation in the UK was approximately 4% in the year
CEO Patrick Coveney, Chief Executive Officer, said: "2018 was a year of significant change for Greencore. We delivered good underlying growth in the UK, with favourable consumer and retailer trends helping drive our core food to go business. After the financial year-end, we took the decision to sell our US business having received a compelling offer for it.
"We will now focus all of our attention and resources on the significant growth opportunities that we see in the UK, both organic and inorganic. Despite the short-term uncertainties of Brexit, our scale, depth and expertise in attractive and structurally growing food categories mean that we are confident in the future growth prospects for Greencore."
It sold its US business to Hearthside Food Solutions on 25 November for US$1.075bn.
Performance had improved in its troubled US operations in the period up to its sale, with up 20.5% to £1.06bn, representing pro-forma growth of 6.6%. Adjusted operating profit in the segment was up 29% to £48m.
Greencore has committed to return £509m of the proceeds of the sale to shareholders by way of tender offer.
Greencore added that the risks from Brexit are "manageable in the medium-term", but the near-term challenges associated with a 'no withdrawal agreement' are uncertain.
However, a strengthened balance sheet and strong underlying free cash generation leaves the group "well positioned to consider organic and inorganic investment consistent with its strategic and returns objectives".
Morning update
Finnish food group Raisio has outlined a new strategy of the company up to 2021 to focus on healthy food and grow into an "innovative and increasingly international brand house".
Raisio said its key target is growth, both via organic growth and through acquisitions.
Raisio said it will continue to invest in the growth of its cholesterol-lowering Benecol brand, while also building a European business based on Raisio's strong oat expertise.
Raisio also seeks growth by expanding into new markets in Europe and by strengthening the growth and profitability of its core businesses.
During the strategy period, the goal is to reach a higher than four per cent annual average organic net sales growth and comparable EBIT of higher than 10% of net sales. Raisio aims to reach net sales of €260m and comparable EBIT of €32m in 2021.
From the beginning of 2019, the company will split its reportable segments into two divisions, healthy food and healthy ingredients.
The healthy food business Unit focuses on the consumer brands with Europe as its market area. The healthy Ingredients Business Unit will include fish feeds, the sale of Benecol product ingredient and the sale of grain-based foods and their ingredients for industrial and catering companies.
On the markets this morning, the FTSE 100 has opened flat at 7,060pts.
Greencore is down 2.7% to 178.9pts on the slightly lower profits than forecast.
Early risers include PureCircle (PURE), up 2.8% to 298p, Coca-Cola HBC (CCH), up 2.5% to 2,482p and Premier Foods (PFD), up 1.9% to 36.7p.
Fallers include McColl's (MCLS), down 3.6% to 79.9p, Total Produce (TOT), down 1.9% to 132.5p and PayPoint (PAY), down 1.7% to 867p.
Yesterday in the City
The FTSE 100 started the week on the front foot, up 1.2% to 7,062.4pts, however there were a number of large consumer fallers.
Convenience retailer McColl's (MCLS) was a huge faller yesterday, losing 30.2% of its value back to 82.9p after issuing a further profits warning. The group said difficult trading conditions had impacted profitability as it had to accelerate the rollout of its Morrisons supply contract following the collapse of Palmer & Harvey.
Another big faller was GlaxoSmithKline (GSK), which dropped 7.6% back to 1,498p after it agreed to buy cancer treatment company Tesaro for US$5.1bn and agreed the sale of its Horlicks brand to Unilever for US$3.8bn.
Unilever was flat at 4,244.5p on the news.
Other fallers included Majestic Wine (WINE), down a further 6.8% to 267.5p to continue its losses since posted its annual results two weeks ago. Brewers Young's and Marston's (MARS) fell 2.5% to 1,485p and 2.2% to 99.8p respectively, while Greencore dropped 2.3% to 183p ahead of today's results and Cranswick (CWK) fell 1.7% to 2,786p, B&M European Value Retail (BME) dropped 1.5% to 344.2p and Associated British Foods (ABF) fell 1% to 2,399p.
Risers included FeverTree (FEVR), up 3.8% to 2,483p, Coca-Cola HBC (CCH), up 3.8% to 2,422p and Jus Eat (JE), up 3% to 600p.
Also on the up were McBride (MCB), up 4.6% to 140p, British American Tobacco (BATS), up 1.2% to 2,783p and Reckitt Benckiser (RB), up 1.1% to 6,586p.