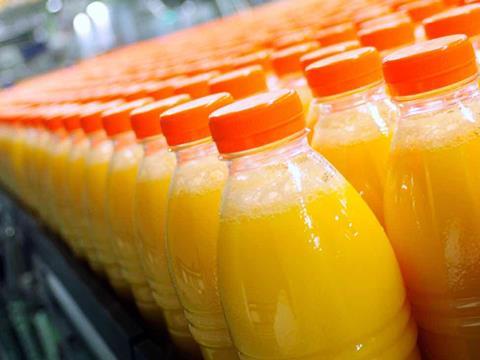 Top story
European bottling giant Refresco (RFRG), currently subject to a €1.6bn private equity bid, had a disappointing end to the year with volumes and value sales slipping in the fourth quarter.
Total volumes in the final three months of the year fell to 1.53 billion litres from 1.63 billion litres in the same period in 2016.
The fall in volumes also saw value sales decline to €520m from €529m, while adjusted EBITDA for the quarter slipped to €50m from €52m.
The fourth quarter figures dragged back full-year growth, which saw total volumes rise from 6.46 billion litres to 7.1 billion litres and and total revenues rise to €2.27bn from €2.1bn.
Contract manufacturing volume comprised 36.3% of total volume, up from 26.8% in 2016.
Full-year adjusted EBITA dipped from to €214m from €222m.
It has been a busy period for Refresco, which began in January a period of integration with the bottling activities of former rival Cott after completing the £935m deal.
Integration of the two businesses has begun in North America, but in the UK it is still in the process of obtaining clearance from the Competition and Markets Authority
Also in January, the board agreed terms over a €1.6bn takeover by private equity investors PAI and bcIMC. Shareholders will vote on the deal later this morning.
CEO Refresco, Hans Roelofs commented: "2017 was for Refresco strategically very good year and financially challenging. We signed a transformational deal to acquire Cott's bottling activities, creating the world's largest independent bottler with leadership positions across Europe and North America. As a result we will grow considerably, gain 4,000 new colleagues, 29 manufacturing sites and fulfil our ambition to operate a market leading bottling platform across two continents. It is a huge step forward, right at the heart of our buy & build strategy.
"A weak summer in almost all markets and continued pressure on retailer brands had an adverse effect on volumes and results. Our results were also influenced by higher than expected costs linked to the start-up of several new Aseptic PET lines across the business. This technology is critical to our future because it enables us to meet changing consumer preferences for more innovative recipes and packaging formats."
Morning update
Tesco (TSCO) has formally completed its £3.7bn merger with Booker, it has announced to the stock market this morning.
Booker shares will be delisted at 8am and 1.6 billion new Tesco shares will be issued this morning.
Booker shareholders will receive 42.6p and 0.861 New Tesco Shares for each Booker share.
As previously announced, Charles Wilson has been appointed as CEO of Tesco's retail and wholesale operations in the UK & ROI effective of this morning. The company has also announced that Stewart Gilliland, the chairman of Booker, has been appointed to the Tesco board as a non-executive director.
Pork processor Cranswick (CWK) has also announced the appointment of two new non-exec directors.
Pam Powell, who spent nine years at SABMiller, holding the position of group director of strategy and Innovation, and prior to this, worked at Coty Europe in France, Unilever (ULVR) in London, and Lever Brothers in New York, will join the board in addition to her current non-exec roles at Premier Foods (PFD) and AG Barr (BAG).
Tim Smith will also join the board, having worked at Tesco between 2012 and 2017 as its group quality director and was previously chief executive of the Food Standards Agency between 2008 and 2012. He has also led a number of food manufacturing businesses including Express Dairies and Arla Foods.
On the markets this morning, the FTSE 100 has started the week on the front foot - gaining 0.4% to 7,100.1pts after a tough run last week.
Tesco has led the supermarkets higher this morning, rising 1.6% to 205.2p, while Morrisons (MRW) is up 1.4% to 225.7p and Sainsbury's (SBRY) is up 1.2% to 256.1p.
Other risers include Premier Foods (PFD), up 4.8% to 40.1p, Conviviality (CVR), up 2.3% to 302.4p and McColl's (MCLS), up 2% to 254p.
Fallers include PZ Cussons (PZC), down 0.5% to 279p and Reckitt Benckiser (RB), down 0.4% to 5,669p.
This week in the City
The diary looks a little light of newsflow this week, although full-year results continue to trickle to out.
Tomorrow brings the full-year results of new FTSE 100 entrant and takeaway food group Just Eat (JE), while stevia producer PureCircle issues its half year results tomorrow.
Easter Europe-focussed Stock Spirits Group (STCK), will issue its full year results on Wednesday.
However, the main news of the week is away from the stock market, with the release of the John Lewis Partnership final results on Thursday.
Non-company newsflow includes the release of the BRC-KPMG Retail Sales for February tomorrow and the monthly market share figures from both Kantar Worldpanel and Nieslen.
The Grocer Price Index (GPI) monthly measure of supermarket inflation will be released on Friday.