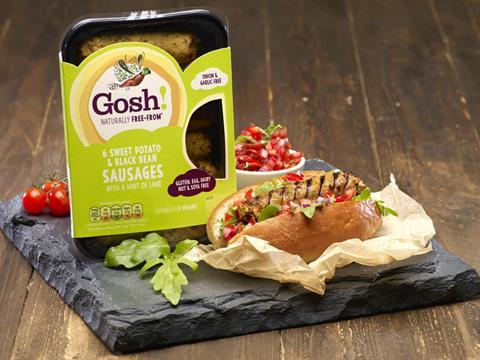 Plant-based food producer Gosh has posted another year of stellar growth, with sales jumping 34% to £18.6m as it continues to tap demand for meat alternatives.
The brand, which hired corporate finance firm Houlihan Lokey to "consider strategic options" including the possibility of a sale in 2018, grew sales from £13.9m to £18.6m in the year to 31 May as it continued to win listings in the major supermarkets.
Pre-tax profits rose 15.3% to £4.1m from £3.5m as it continued to invest in growth.
Gosh produces vegan chilled produce including burgers, sausages and bakes, and is listed in Morrisons, Tesco and Sainsbury's.
It said it continued to "innovate and extend" its range in the year and its strong growth "reflects the market in which we operate".
It said 45% of UK grocery shoppers are either following or considering following a plant-based diet, while 25% of 18-24 year olds are adopting a completely meat free diet.
Gosh also said it had experienced an "excellent" start to its current financial year.
The Grocer reported Gosh had hired Houlihan Lokey to advise on a possible sale in November 2018.
The process is understood to be ongoing, with a number of interested parties – thought primarily to be private equity investors – believed to have submitted initial bids in recent months.