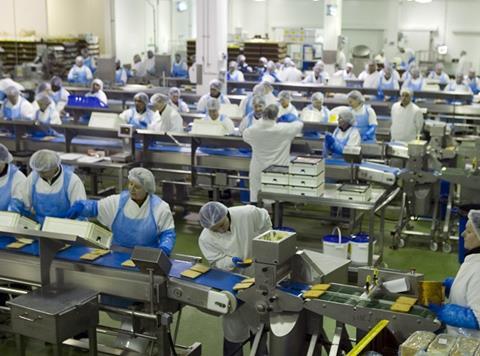 While the supermarkets have experienced unprecedented levels of demand and sales growth in the midst of the coronavirus outbreak, the demand mechanics for two key listed grocery suppliers have been rather more mixed.
Ready meals and chilled prepared foods are a staple of both Greencore (GNC) and Bakkavor (BAKK) and both are playing a key role in the supply of food to the nation. However, both also have significant food to go businesses – such as sandwiches and prepared salads – which have been badly affected by the UK-wide lockdown.
Greencore on Monday suspended its financial guidance and outlook, while announcing a number of measures to protect its business during the coronavirus crisis. The group is experiencing a "marked reduction" in demand for its food-to-go options in retail, only partially offset by growth in other convenience categories.
To mitigate the profits hit from the decimation of its fastest-growing business arm, Greencore has furloughed workers in its food-to-go production, the leadership have taken pay cuts and it has slashed non-essential costs.
Goodbody analyst Jason Molins praised the "sensible [and] prudent measures taken to protect staff, profitability, and cashflows". Shore Capital's Clive Black said: "[These measures] should ensure that Greencore has sufficient liquidity and so remain a firmly solvent business, to face into whatever commercial life is going to be after coronavirus"
Greencore's shares have lost almost 44% of their value since the start of 2020. The shares fell a further 11.7% on Monday to 161p on the announcement, but have risen sharply since hitting a multi-year low of 83.4p in mid-March.
Jefferies analyst Martin Deboo backed the company's longer term prospects: "Greencore has five times the capacity of the next biggest food to go player and is well-positioned to take on volume, should others wilt."
Meanwhile, Bakkavor withdrew its own financial guidance amid "significant operational challenges" caused by the coronavirus and a reduction in orders in its core UK business.
To mitigate the effects of the pandemic, Bakkavor has put on hold all non-essential capital investment, suspended its final dividend, cut exec pay and reviewed capacity across its facilities, including use of the government's Job Retention Scheme.
Bakkavor has lost almost 30% of its value since 1 January and fell back 13.5% on Thursday morning to 85.3p, but has recovered somewhat from a low of 56.7p on 19 March.