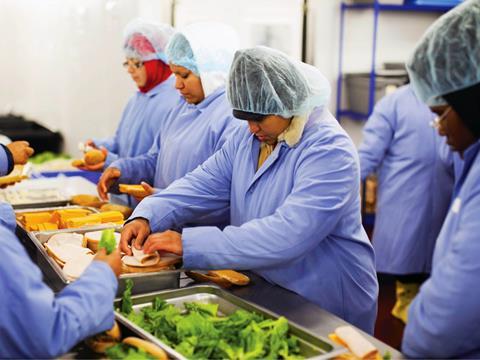 Food-to-go specialist Greencore continues to register soaring growth in the UK and US, with revenues up 77% to £636.5m in its third quarter.
The sandwich maker's convenience division for UK & Ireland today reported growth of 20.9% to £370.6m in the 13 weeks to 30 June. This was driven by the food-to-go business, which accounted for more than 60% of divisional sales in Q3; reported revenue grew by 32.6%, while pro forma revenue grew by 22.7% in the quarter – steered in part by positive underlying market growth.
Elsewhere in the convenience arm, reported revenue grew by 6.4% in Q3, and by 5.3% on a pro forma basis, with "particularly strong" revenue growth in the Irish ingredients businesses. "Trading conditions were challenging in our ready meals, cakes and desserts businesses during the quarter," Greencore said.
In the US, sales rose almost 400% to £265.9m due to the addition of Peacock Foods in December. Excluding the acquisition, sales grew 6.6%. Group revenues in the first nine months of the financial year were up 57% to £1.6bn.
The next quarter would be "the most seasonally important period for Greencore in both the UK and the US," the group said. "This year, the step up in activity is expected to be even more significant given the integration of Peacock Foods, as well as the new business wins and associated project work in both the UK and the US."
In spite of the step-up and challenging trading conditions in some UK categories, Greencore anticipated its full-year performance would be "in the range of current market expectations".
Greencore's Q3 growth was "strong and ahead of our expectations, albeit flattered a bit by cost pass-through in ingredients" said Martin Deboo, analyst at Jefferies. The business' full-year was "expected to be within the range of consensus expectation" he added. "Top line performance out of both the UK and US continues to impress."