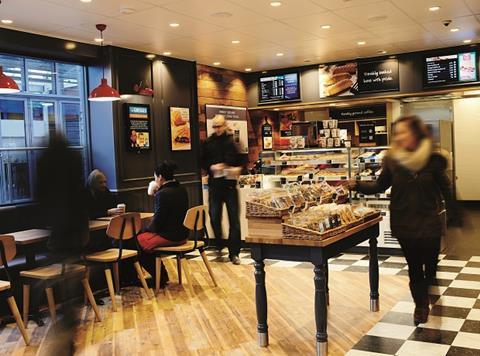 Greggs is one of the British high street's best-loved brands, a point that was reinforced when it took on Chancellor George Osborne in the pasty tax debacle of 2012, and won.
Yet the victory looked for a long time like a pyrrhic one, as its share price plummeted, along with its performance – proof, Greggs might have argued, that the UK consumer really was as price-sensitive to the possible imposition of VAT as its then CEO Ken McMeikan was insisting.
Over two years on, however, and its stock has never been higher, currently sitting at a record price of more than £6.20 a share – a rise of almost £2 over the past year.
To understand what has driven the boom it is useful to examine briefly the year of transition in 2013 and the decline which came when chief executive Ken McMeikan decided to step down at the end of 2012.
Industry analysts were surprised when the popular boss left Greggs after a four-year run in which sales and profits grew, a record number of outlets opened, an upmarket coffee shop concept launched and the chain diversified into wholesale, selling millions of frozen sausages rolls in Iceland. And that is without even mentioning McMeikan's famous victory over Chancellor George Osborne on the unpopular pasty tax.
Then came the fall. Roger Whiteside took the helm in February 2013 and in April announced a profit warning for the first quarter and a 4.4 per cent like-for-like sales drop, as Greggs was hit with bad weather and falling footfall. Shares plummeted, wiping £68m off the value of the baker, with prices dipping to their lowest for four years at below 400p.
It then revealed a like-for-like sales dip of 0.8% for the whole of 2013, with pre-tax profits down 18.9% to £41.3m. However total sales were up 3.8% to £762.4m and Greggs pointed to an improving trend in the latter part of the year.
So what changed?
In short, a change of direction replaced the experimental strategy of previous years with a back-to-basics plan. Whiteside froze the roll-out of the frozen wholesale operation, slashed the number of store openings in favour of modernising the existing estate and put an end to the new formats.
Sales growth was driven by initiatives to improve products, such as a new coffee blend and healthier sandwich range. Whiteside said, when announcing the half-year results, the strong performance reflected a "positive response from customers to new product initiatives, improved service, better value and our investment in shop refurbishments alongside more favourable trading conditions."
Greggs reported an almost 50% rise in pre-tax profits in the six months to June 2014 to £16.9m on the back of a 3.2% rise in like-for-like sales, sending shares leaping 4.1% to 520.5p.
Further improvements in the third quarter, with like-for-like sales climbing 5.4% for the 11 weeks to 13 September, led to a host of brokers upgrading their expectations for Greggs. Shares soared 12.3% to 602p – the highest price for five years.
The Greggs turnaround has been in part a "self-help story" but has also been aided by positive macroeconomic factors, says Edison Investment Research analyst Sohil Chotai.
"Greggs' new product initiatives, such as healthier sandwiches and a better coffee and meal deal offer, have improved like-for-like sales from -0.9% in 2013 to 3.9% in the year to date. A store refit programme has seen meaningful sales uplifts. And the closure of in-store bakeries and poorly performing stores contributed to the bottom line."
Warmer weather this year also increased footfall and Greggs benefitted from benign commodity price deflation, he adds.
"The outlook is positive for Greggs, given they are continuing to invest in their stores, along with expanding the product offer. The company should also benefit from its new bakery-food-on-the-go strategy."
Whiteside and his management team also impressed Shore Capital, beating the firm's expectations and resulting in rising profit and earnings expectations for the year.
ShoreCap analyst Clive Black says Whiteside has focused down, looked at the proposition and then modernised it in terms of sandwiches, rolls and sweet lines. Putting seats in stores also helped Greggs retain and add new custom, as well as increasing basket size.
"I think with the economy recovery and footfall on the high street stabilising, if not necessarily rocketing, aligned with a lower cost base and a better proposition, Greggs is well placed to see through improvements," he says. "We've been very pleased to put two upgrades through and I wouldn't be surprised if Greggs delivers more upside in forthcoming quarters.
"Greggs is also a very cash-generative business; it has cash on the balance sheet and those cash balances should build nicely. That gives some promise for investors that there could be a rise in dividend and more to come. It's been a very good year for Greggs and it may not be the end of the good news cycle just yet."