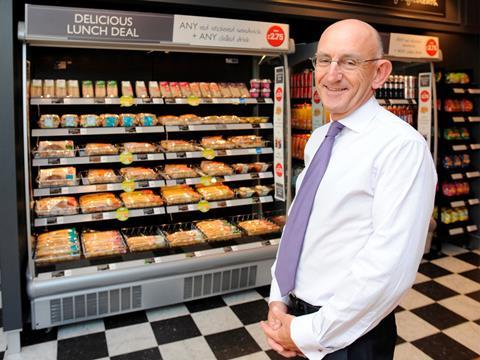 Shares in Greggs (GRG) have soared once again today as the high street bakery chain posted record profits and the strongest like-for-like sales seen since 2007.
At 927p (up 6.5%), the stock is at an all-time high and has climbed by 110% since CEO Roger Whiteside pressed reset on the company's strategy in August 2013 and shifted focus to the food-to-go-market.
Sales climbed 5.5% to £804m in the 53 weeks to 3 January – the first year of a five-year plan – with like-for-like growth of 4.5%, compared to a l-f-l decline of 0.8% in 2013.
As well as seeing a positive response from consumers to its healthy sandwich offering and new coffee blend, Greggs benefitted from low inflation putting more money in shoppers' pockets, low input costs and better weather conditions.
Underlying pre-tax profits hit record levels at £58.3m as a result, 41.1% ahead of the previous year, and operating margin extended from 5.4% to 7.2%.
Staff will also take home a record share of the profits as Greggs distributes 10% of the total every year to its 20,000-strong workforce. Employees who have been with the business more than 12 months will share out a £6.4m pot, with full-time members with more than six years' service benefitting to the tune of up to £1,000 extra in the March pay packet.
Investors too will also be celebrating thanks to increased returns, with a 13% hike in dividend to 22p and a £10m share buyback programme.
"2014 was a year of significant change and an exceptional step up in performance for Greggs as we began to implement our new strategic plan centred on the growing food-on-the-go market," CEO Roger Whiteside said. "Overall we are confident of delivering a further year of good growth and progress against our strategic plan in 2015."
He added that Greggs had a "strong pipeline" of further product developments lined up for 2015 and there were lots of changes still to come. The group has already boosted like-for-like sales in the eight weeks to 28 February by 6.3%, albeit compared to a period a year ago plagued by wet weather, and said continued lower food input costs coupled with higher disposable income for consumers positioned it well for further growth.
Greggs will also accelerate store openings in 2015, targeting 80 to 100 new locations, as it looks to build its estate toward 2,000 shops, mostly away from the high street. Its portfolio is currently 1,650-strong after opening 50 stores and closing 71 in 2014.
The business is also planning to refit another 200-plus stores to fit with its food-to-go strategy during the year, taking expected capex spend to £65m, up from £48.9m in 2014.
Edison Investment Research analyst Sohil Chotai said: "The company's pivot to the food-on-the-go market has been successful alongside operational changes such as store refurbishments and technology and procurement investments.
"Given Greggs' strong ROCE, net cash position and successful change in strategy we believe the company should deliver sustainable growth going forward. The company will also benefit from lower commodity costs and increased disposable income this year, so we continue to favour the stock."
Fundamentals
| Year Ending | Revenue (£m) | Pre-tax (£m) | EPS | P/E | PEG | EPS Grth. | Div | Yield |
| --- | --- | --- | --- | --- | --- | --- | --- | --- |
| 01-Jan-11 | 662.33 | 52.52 | 37.80p | 12.3 | 1.1 | +11% | 18.20p | 3.9% |
| 31-Dec-11 | 701.09 | 60.50 | 39.50p | 12.8 | 3.2 | +4% | 19.30p | 3.8% |
| 29-Dec-12 | 734.50 | 52.36 | 38.90p | 11.7 | n/a | -2% | 19.50p | 4.3% |
| 28-Dec-13 | 762.38 | 33.15 | 30.80p | 14.3 | n/a | -21% | 19.50p | 4.4% |
| 03-Jan-15 | 803.96 | 49.74 | 44.00p | 16.5 | 0.4 | +43% | 22.00p | 3.0% |
(Based on UK GAAP presentation of accounts - includes discontinued activities)