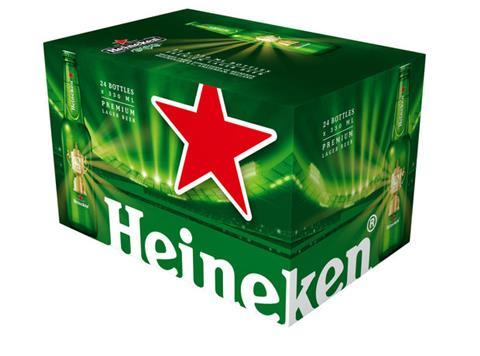 Heineken has suffered a UK volumes dip in the wake of its Tesco de-listing, but still achieved "impressive" growth globally, its latest figures show.

The brewer's global volumes were up 0.6% organically to 44 million hectoliters, driven by strong performance in the Asia Pacific region, according to its 1Q 2017 trading update.

Central European growth was solid but held back by "low-single-digits decline" in UK volumes, in the wake of Tesco's cull of Heineken beer and cider brands in February.

Meanwhile, Middle Eastern, African and Eastern European market conditions remained "challenging", said Heineken CEO and chairman of the executive board Jean-François Van Boxmeer.

Heineken did not report value sales or EBITDA, but revealed its unadjusted net profit was up 11% year-on-year.

The brewer's global volume growth was "impressive", given it achieved 7% volume growth in Q1 last year, said SocGen analyst Andrew Holland.

Heineken's broad portfolio of international premium brands, cider, craft and low/no alcohol "played well" with current trends in beer, according to analysts at Liberium.

Tesco, which accounts for around 30% of the UK's off-trade beer sales, took an axe to 31 Heineken products including Amstel, Sol, Tiger and Kronenbourg as part of a major overhaul of its booze aisles.

The Dutch brewer has since launched into Iceland for the first time with eight SKUs: Desperados Lager (650ml), Desperados Red Tequila (3x330ml), Foster's (4x440ml), Heineken (440ML), John Smiths Extra Smooth Bitter (4x440ml), Scrumpy Jack (4X440ml), Strongbow (4x440ml) and Tiger (640ml).

"We've been working with the Iceland team over the past year and are pleased their shoppers can now choose from a range of our fantastic beer and cider brands," a Heineken spokeswoman said.