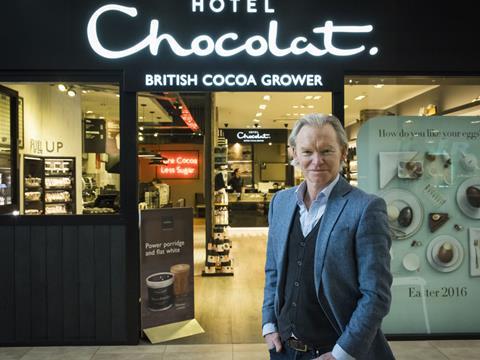 Shares in Hotel Chocolat have soared today as the posh confectionery retailer told markets its profits would be higher than expected thanks to increased demand from customers after shops reopened last month.
Revenues at the business in the eight weeks to 25 April were 19% higher than two years ago – prior to the coronavirus pandemic devastating the retail sector – despite stores remaining closed in the run-up to Mother's Day and over the important Easter period.
The increase was even more stark when compared with 2020 during the first national lockdown, with sales 60% higher than a year ago.
Hotel Chocolat said in an unscheduled trading update that the growth was largely driven by its online offering and subscription service.
The group added sales in physical stores had been "encouraging" since reopening on 12 April as Covid restrictions relaxed for "non-essential" retail.
The business now expected trading for the year ended 27 June 2021 to be "significantly" ahead of expectations.
CEO and co-founder Angus Thirlwell said it felt "great" to have the stores back open again, with a strong pipeline of NPD to launch over the summer.
"In the past year, we have added over one million customers to our database, an increase of 47%," he added. "Our strong Easter is entirely thanks to them."
Hotel Chocolat also committed to repaying its furlough funding of £3.1m received from the government thanks to the "resilience" of its performance.
"I'm pleased we are able to look forward to further growth and significant investment this year with strong job creation, particularly in our UK chocolate-making and supply teams as we turn on extra capacity for our creamy-tasting vegan 'Nutmilk' chocolate, our globally popular chocolate macarons, and our 'Velvetiser' flakes for drinking chocolate," Thirlwell said.
"I would like to commend our team on the commitment, dynamism and creativity they have all shown during the pandemic. They have not only adapted the business to the challenges we faced but have strengthened the brand and accelerated our business model and future growth prospects."
Shares in the group are currently 8% up to 378.2p, and were more than 10% higher when markets first opened this morning as investors raced to buy stock on the back of the positive update.