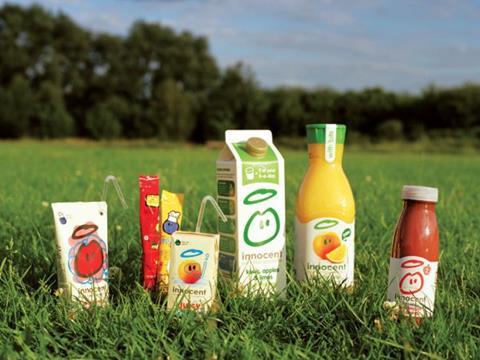 The UK's biggest smoothie maker Innocent Drinks has posted annual revenue growth of 22% as surging international sales boosted sales to almost £370m.

Group-wide turnover for Fresh Trading Ltd rose from £303.5m to £369.9m in the 12 months to 31 December 2017 on top of 23% growth seen in 2016.

Headline growth was driven by a 43% sales surge in France and 21% growth in Germany.

Sales were also up by 8% in the UK as the brand gained "significant" market share, which now makes up just under 40% of total sales.

Innocent CEO Douglas Lamont told The Grocer: "All of our segments across juices and smoothies were all in growth. That overall growth has come from new ranges performing well, launching into new geographies and existing geographies performing well."

The group said over 25 million people "enjoyed our healthy drinks", a figure up four million year on year - while it served over one billion potions of fruit and veg during the period

Recently Innocent has also looked to expand its reach away from smoothies, launching a range of nut and oat milks in the UK in March this year and a gazpacho soup product into France.

"We're trying to evolve the business from a smoothie business into a healthy drinks business and we believe we have the brand credentials of simple, natural and healthy to bring that to a range of different drink categories," Lamont said.
Post-Brext devaluation
The group fell back to a statutory loss of £11.2m having posted a profit of £6.4m in the previous year.

However, this loss was driven wholly be movement in fair value of unrealised derivatives, which resulted in a charge of £13.4m last year compared to a gain of £5.3m in 2016.

Group operating profit excluding this derivative accounting treatment was up to £4m from £3.1m.

Lamont admitted the post-Brexit devaluation of the pound was the "biggest pressure on the business", which the group is looking to offset through growth and efficiencies driven by economies of scale.

He also suggested a no-deal Brexit was "clearly on our risk register" and floated the potential need to shift its bottling operation to mainland Europe if there was significant disruption to its supply of short shelf-life blend into the UK.

Innocent has also been certified as a B Corporation, the certification for 'ethical' businesses, in recent weeks.

"Becoming a B Corp is an important moment for us," Lamont said. "We've always been about influencing wider change, not just because it's good for us, but to influence a better way of doing business. We've been a voice in that and we think that voice is getting louder."

The group, which pledges to give 10% of its profits to charity, donated £1m to its Innocent foundation during the year despite the headline loss.

Its Big Knit campaign also generated £1m of cash for age concern charities across Europe.