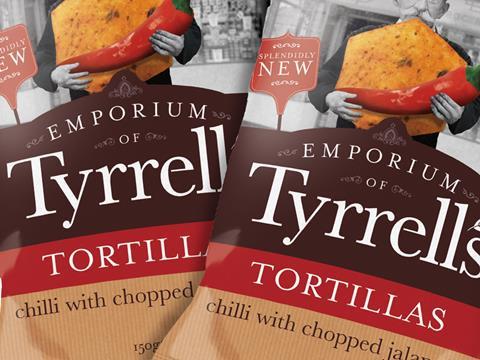 Revenues and profits have soared at crisp manufacturer Tyrrells after another year of international and domestic expansion.
Sales neared £50m in the year to 27 March 2015, climbing 22.2% to £49.3m from £40.4m last year.
This double-digit turnover growth was driven by expansion in the UK and abroad, with UK sales up 24.5% to £39.3m and international sales up 14% to £8.8m.
Of these international sales, revenues edged up 2.7% to £6.6m in Europe and but shot up 31.3% to £3.4m in the rest of the world after launching in Australia in June 2014
Tyrrells is likely to see a further boost in non-European revenues in the current financial year after buying Aussie snacks firm Yarra Valley Snack Foods in August 2015 – its first international acquisition.
The brand is also continuing to grow in the UK, with The Grocer's Top Products 2015 (Nielsen 52 weeks to 7 November) finding it saw an annual 8.9% in volumes and a 5% price increase added an extra £5.1m in value sales during the period.
The booming revenues helped increase EBITDA (before exceptional items) by 44.3% to £11.5m during the period.
Operating profit for the year was £8.5m up from £4.4m last year, while reported profit after tax more than doubled from £3.7m to £7.5m.
The accounts included exceptional costs of £1.45m during the year - £803k of which was related to costs relating to a customer dispute.
Tyrrells CEO David Milner said that the company now exports to 37 countries worldwide and the customer dispute related to ""contractual changes" in these international markets.
The crisp maker's tax bill rose more than threefold during the year, rising from £190k to £647k.
Tyrrells was bought by Bahraini private-equity fund Investcorp for £100m from Langholm Capital in August 2013.