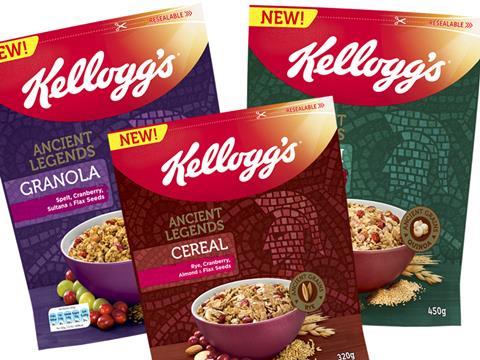 US food group Kellogg has beaten profit expectations in the fourth quarter despite revenues falling for the eighth reporting period in a row, with conditions particularly difficult in the UK.
Operating profits came in at $98m in the final three months of 2016, compared with a $39m loss a year earlier to move full-year earnings 27% higher to $1.4bn. A massive cost-cutting programme helped the Frosties and Corn Flakes manufacturer boost margins across all regions, Kellogg told the New York Stock Exchange.
Net income rose 13% for the year to $694m, despite a $53m loss in the final quarter related to a move to write off the Venezuelan operation, hit by the slumping value of the bolivar.
Revenues fell 1.4% to $3.1bn in the fourth quarter as its European business faced into strong currency headwinds and sales declined in the UK, where "the company continues to face a challenging environment". It offset gains in in emerging markets, such as Russia and the Middle East, and dragged down full-year sales 3.8% to $13bn.
Kellogg has suffered as consumers in the US and UK have put down bowls of cereal in favour of on-the-go snacks and healthier breakfasts. The US snacks division reported growth in the fourth quarter, driven by the continued success of core brands such as Cheez-It, Pringles and Rice Krispies Treats.
"Our fourth quarter earnings exceeded our expectations, as operating-profit margins continued to improve, and as we again showed sequential improvement in our sales performance," CEO John Bryant said.
Kellogg added the revenue decline was expected to slow in 2017, with a 2% fall forecast this year. The majority of the decrease is expected to be down to a change in the delivery model to retailers in the US, as Kellogg moves from a direct store delivery (DSD) distribution system to a standard warehouse model.
"This was a difficult decision, but one that accelerates a transformation of our US snacks business, leading to better growth and profitability ahead, both for our retailer partners and for us," added North America president Paul Norman.
Guidance for operating profits growth is unchanged at 7%-9% year on year.