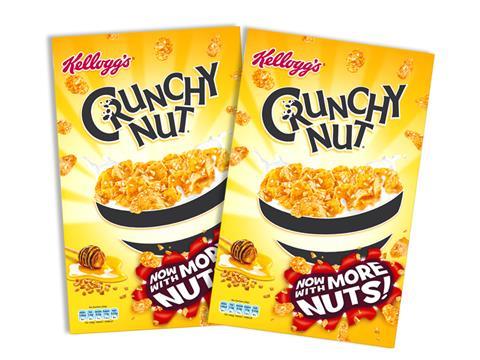 A declining UK cereal market continues to hamper sales at Kellogg's as its Special K, All Bran and Crunchy Nut brands fell out of favour with shoppers.
The rise of breakfast on-the-go, with fewer Brits sitting down for a bowl of cereal in the morning in favour of grabbing protein boosted drinks and yoghurts, have combined with swingeing price cuts as the supermarkets try to compete with the discounters has hit cereal sales in the UK in recent years.
Turnover at the sales and marketing arm of Kellogg's fell by almost £22m in the year to 31 December 2016 to £773.4m, which was on top of a £10m decline in 2015.
Special K and All-Bran led the core brand decline as Kellogg's continued to reposition the adult health portfolio from weight management to health and wellness, according to new accounts filed at Companies House for Kellogg Marketing and Sales Company UK.
The commercial model was reset on Corn Flakes, exiting portions of the business and refocusing on driving value behind the brand, Kellogg's added.
The Grocer's Top Product Survey for 2016 showed that Crunchy Nut, Special K, All Bran, Corn Flakes, Rice Krispies and Frosties all suffered significant decline in value as £77.6m was wiped from the cereal category. And Kellogg's top sellers saw an overall value loss of £32.7m [IRI 52 w/e 3 December 2016].
Kellogg's said in the latest accounts that its snacks business offset some of the cereal declines with a "strong performance", with further growth for the Pringles brand.
"Although there have been some challenges in the cereal category in recent years, we have seen strong growth in our business with key retailers and in some of our core brands in 2017," a Kellogg's spokeswoman said.
"We have also succeeded in growing some of our most popular brands which has driven the category back into value growth. In fact, we currently have the three fastest-growing brands in the cereal market year to date: teen favourite Krave +19% and family favourite's CornFlakes +15% and Crunchy Nut +11%, while Special K has returned to growth in the second half of the year."
"We will continue to invest in the brands that our consumers love and to launch new innovation that provides shoppers more choice in the cereal category."
Pre-tax profits at the UK sales and marketing arm jumped to £22.1m in 2016, compared with £13m in the previous year, largely thanks to foreign currency gains arising from the weakening of sterling following the Brexit vote.
"The directors are confident that with the pipeline of commercial initiatives, product innovation and the Project K global growth and efficiency program, the business will be well positioned for strong future growth," the accounts added.
Revenues also fell at the Kellogg Company of Great Britain, the manufacturing subsidiary, from £134.7m to £128.6m
Last week, ultimate US parent Kellogg revealed that CEO John Bryant was leaving after seven years leading the snacks giant to be replaced by former Coca-Cola and AB InBev executive Steven Cahillane.
Kellogg has seen sales decline for nine quarters in a row as consumers across the world change their eating habits. Revenues dropped another 2.5% in the second quarter of 2017 to $3.2bn (£2.4bn), with the group highlight challenges in the UK.