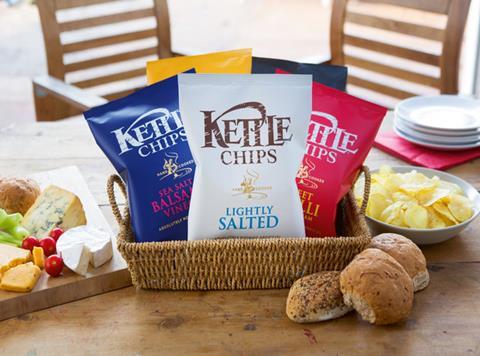 Kettle Chips has seen profits fall more than 31% in the UK as intense competition and heavy promotions in the snacking sector ate away at margins.
Sales declined 5.5% to £79.4m in the year to 31 July 2015 as the business invested in price in line with the rest of the crisp sector, running £1 promotions for 150g sharing bags to maintain market volume share, which dipped 0.3 percentage points to 4.1%.
Cost of sales also increased by about £300k in the period leading to a fall in pre-tax profits from £12.1m in 2013/14 to £8.3m.
"The snacks market was exceptionally competitive with increasingly aggressive headline promotions which resulted in huge pressure on margins across the industry," Kettle said. "Our aim was to remain sufficiently competitive and to maintain our breadth of presence across the UK retail landscape we invested heavily with our retail customers in promotional support and additionally building our new product development pipeline."
Kettle has responded by launching three premium gourmet flavours in the Chef's Signature range since the year end and is spending £1.5m to raise consumer awareness of its new Kettle Bites range to capitalise on increased popularity for baked snacks.
The business said the brand was back in strong growth, with values up 3.9% and volumes up 15% [Nielsen 52 w/e 26 March 2016]. A strong Christmas and Easter put both value and volume in double-digit growth in the shorter term, Kettle added.
Popcorn, along with baked snacks, has also eaten into crisps value, with Kettle's US owner snapping up a minority stake in the Metcalfe's Skinny brand in January to take advantage of the growing sector.
"We expect the snacks market to carry on being exceptionally competitive in 2016 and our aim is to remain sufficiently competitive and to continue to grow in this challenging environment," the business said.
Kettle added the upcoming Euro 2016 football tournament presented an opportunity for the brand to net a share of the expected rise in sharing snack sales.