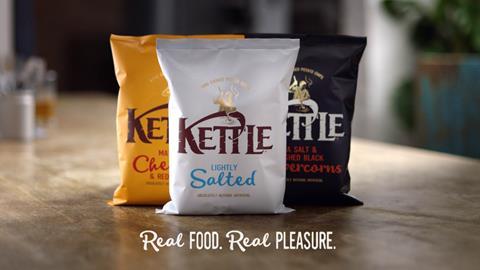 Premium crisps player Kettle Foods has slumped to a heavy loss as it maintained high levels of promotions to fight declining market share.
Kettle posted pre-tax losses of £4.4m from 1 January to 31 July 2018, according to latest accounts at Companies House, compared with losses of £42k in the 12 months to the end of 2017.
Turnover for the latest period was £51.1m, compared with £89.6m for the whole of 2017 – down 2.3% on a pro-rata basis.
This week parent Campbell Soup Company refused to comment on "rumours or speculation" it had appointed Barclays to find a buyer for Kettle.
A sale would be an admission of defeat from the US consumer giant, which described Kettle as one of six "power brands" in its 2018 annual report.
Ashley Hicks, MD of Kettle Foods, said in the company's latest strategic report that competition in the UK had been "very intense" and it had increased investment to protect volume market share, which fell to 3.1% from 3.3% in the previous year.
He said the directors had reduced costs in certain areas while maintaining the volume of the brand sold on promotion to meet product category and consumer demands.
Hicks added the company aimed to accelerate the growth in its distribution so it could increase volume while maintaining its premium position.
Commodity prices continued to pose a risk to performance and it worked "very closely" with suppliers to manage cost increases.
"The directors consider that the market will remain highly competitive over the coming 12 months. The strength of the brand is reflected through the maintained market share in the past year. This is planned to grow with increased distribution and as new products are launched into the market," Hicks said.
Kettle was bought by troubled US food group Campbell Soup Co in a wider $4.9bn (£3.7bn) deal for its previous owner Snyder's-Lance in December 2017.