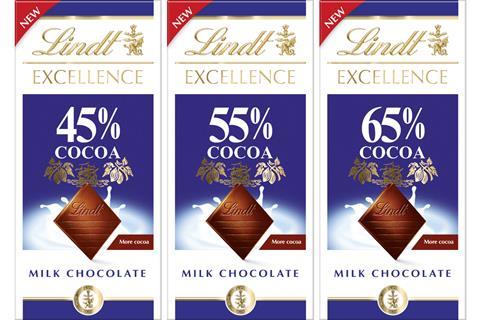 Consumers have been eating more chocolate at home, but it wasn't enough to offset big declines on the high street for Lindt as shops were forced to shut their doors multiple times during the Covid pandemic.
Group revenues slumped 6.1% to CHF 4bn (£3.3bn) in 2020 as a result of lockdown restrictions across the world and a fall in out-of-home consumption. The fall was in line with guidance the Swiss chocolatier gave at the half year, with expected declines between -5% and -7%.
Closures of its retail network hit particularly hard during the important Easter and Christmas periods, and reduced footfall harmed sales when shops were allowed to open. Restrictions on the food service segment in North America and the traditional specialty stores in Italy also had a major impact on sales, the group said.
The travel retail business also recorded a significant decline in sales due to restricted air traffic.
However, the growth of ecommerce saw online sales double to represent 5% of group revenues.
Lindt's range of chocolate bars helped offset part of the declines as shoppers ate more sweet treats at home. And the group's main product lines, Lindor and Excellence, in particular contributed to the positive development in retail trade.
In Europe, organic sales declined 2.9% as growth in the UK, Spain, Germany and the Netherlands was offset by falls in Austria, Italy and Switzerland, which have more exposure to the retail network and rely more on tourism.
The North America region reported a 6.8% fall in sales compared with 2019 and the rest of the world slumped 16.1% as a result of the exposure to the travel retail business.
Lindt said in the 2020 trading update that it would hit its operating profit margin target of about 10%.
"Lindt remains convinced that the positive growth of the chocolate markets and in particular the premium segment will continue in the future," the group added
"In addition, in 2020, Lindt has laid the foundation for further market share gains with continued consumer focus, increased advertising spends, and various product innovations."
For the coming years, Lindt confirmed its existing medium to long-term organic sales growth target of 5-7% a year.
Assuming a significant improvement in the situation relating to the pandemic, Lindt expected the operating profit margin to return to a level of around 15% in 2022.