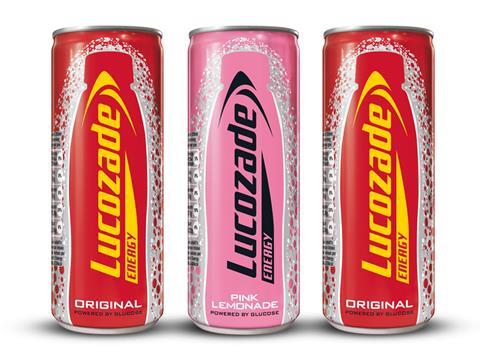 Lucozade Ribena Suntory has shifted its focus to its drink-later portfolio of bigger bottles and multipacks to offset the trading blow from the closure of the UK high street during the coronavirus lockdown.
The dramatic collapse in footfall on the high street and the meteoric growth of online grocery shopping depressed demand for impulse soft drink purchases with consumers stuck at home.
However, LRS finance director Conor Brew said one-litre bottles and multipacks of Lucozade and Ribena squash had experienced "great growth" after the business increased availability for those products online and in-store.
"Like all businesses, ours has been impacted by the Covid-19 pandemic," he told The Grocer. "Market dynamics have shifted dramatically and throughout lockdown we saw weaker footfall and fewer shopping trips as online shopping reached new heights and the weekly 'big shop' returned.
"This did mean reduced demand for our impulse-occasion heartland, but we pride ourselves on being an agile business and worked round the clock to increase the availability of our Ribena and Lucozade drink-later portfolio."
Out-of-home consumption of the two brands started to return in June and July as lockdown restrictions eased and non-essential retailers reopened along with restaurants, cafes and pubs, Brew added.
LRS headed into the coronavirus crisis on the back of a positive year as revenues increased 3.2% to £425.6m in the 12 months to 31 December 2019, according to new accounts filed at Companies House.
The group, owned by Japanese drinks giant Suntory, invested in marketing for its brands, factory efficiencies and new launches, such as the watermelon & strawberry flavour Lucozade energy drink.
Operating profits rose 4.7% to £73.1m in 2019 and pre-tax profits jumped 14.2% to £69m.
LRS said in the accounts it had accomplished the results against tough economic circumstances with pressure applied by customers and suppliers alike.
"In 2019, we continued our efforts in building and strengthening customer and supplier relationships, increased operational efficiency at our manufacturing site in Coleford and rolled out new launches with the continued success of our Lucozade flavour strategy," Brew added.
"As ever, we supported our core brands with big marketing investment to drive sales for our business and for our customers."
Lucozade maintained its position as the 14th biggest brand in the UK in 2019, adding £12.4m in retail sales value, according to The Grocer's Britain's Biggest Brands 2020 survey. The brand was worth £436.5m in the year, with growth driven by the core energy range and drink-later multipack SKUs.
Ribena had a tougher year, losing £24.7m of value to £121.4m – the fourth-largest absolute loss in the list – as health-conscious consumers worried about sugar intake.