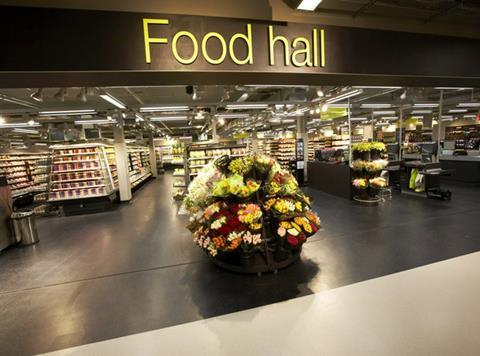 Analysts react to another tough trading period for Marks & Spencer, with like for like food sales sinking 2.9% in the first half and its troubled clothing & home division dropping by 1.1%.
Hargreaves Lansdown analyst Laith Khalaf:
"The most recent missive from M&S makes for grim reading, despite the headline rise in profits. However expectations are already low, and while there are few signs of relief in its latest numbers, the broad direction of travel at M&S won't come as a shock to anyone.
"As well as traditional rivals like Tesco and Sainsbury, and the upstarts Aldi and Lidl, the food division is up against a new breed of online competitors such as Hello Fresh, Deliveroo and Just Eat. These providers present a particular threat to M&S seeing as many of its customers are buying a quick meal for that night, rather than a full weekly shop.
Shore Capital analyst Clive Black
"Room for improvement and much more work to be done for the business to meet the aspirations of both management and shareholders. The Chairman's frank assessment of a 'burning platform' back in July 2018, leads us first to hope that the hires over the last 12 months represent the arrival of the fire brigade."
Retail analyst Nick Bubb
"We flagged that the much-awaited M&S interims today would make grim reading, as the seemingly inexorable decline of the business continues, but there is a fan-club in the City that still believes in the dividend support for the shares and the turnaround potential under the Chairmanship of the veteran Archie Norman. And there seems, at first glance, to be plenty in it for both the bears and the bulls.
"Having noted that there had been softening up on the results and that, if anything, M&S had talked up first half profits, the bulls will be pleased that underlying PBT in H1 was not down, as we had feared, but at £223.5m came in 2% up and well above the City range of £188m-£212m. However, this better than expected profit outcome reflected phasing benefits from cost-cutting and the bears will point to the gross margin weakness and the weak LFL sales figures."
Macquarie:
Management is tackling key issues and has initiated good cost savings. However, in our view more aggressive investments will come, while there is no guarantee of success in a market which is changing fast, potentially faster than it takes to transform M&S. At the same time, competition is intensifying.
Richard Stables, CEO of Kelkoo:
"Marks & Spencer posting falling sales is symptomatic of the retailer relying too heavily on its heritage and reputation with an ever-shrinking group of consumers. Traditional retailers are failing to address the fact that 20-somethings value convenience and low prices much more than their parents or grandparents do.
"Retailers like Marks & Spencer need to be willing to adapt to the changing landscape and provide customers with an effective omnichannel offering or we will continue to see stories of famous British retailers struggling to keep up with the pace."
Angus Burrell, general manager UK, Valitor:
"It should come as no surprise that Marks & Spencer has announced another negative outlook for sales growth. The brand has taken too long to change and adapt to customer demands, to the point where it is now having to take drastic action, as we have seen through its store closures and attempts to shift the business online.
"The launch of its in-store payment app and other changes, show that management is now taking positive action. The risk though, is that by the time these changes take effect, customer expectations will have shifted again and it will be forced to play catch-up once more. This is a clear warning for retailers that they cannot trade on past glories - consumers stand still for no brand."