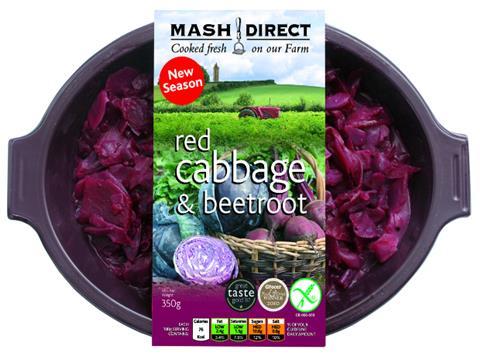 Northern Irish convenience food manufacturer Mash Direct has increased profits five-fold thanks to a rise in sales driven by growing consumer awareness of the brand outside its domestic market.
The farm-based business produces a range of side dishes, including mashed potato, red cabbage & beetroot and cauliflower cheese gratin for retail, foodservice and the food manufacturing sectors.
The brand is stocked in the UK with Iceland, Co-op, Tesco, Asda and Budgens, and has recently won national listings with Morrisons.
Sales increased 5.7% to £15m in the year to 29 February 2016, achieved by driving sales through existing retail and industrial channels, gaining more exposure to consumers and NPD, according to accounts at Companies House.
The jump in revenues, along with a reduction in cost of sales and keeping other expenses flat, helped pre-tax profits rise from £210,000 in 2014/15 to £1.1m – with EBITDA up from £1.2m to £2.2m.
"The sustained investment in the market of our brand has raised awareness of the product portfolio away from our home market of Northern Ireland even further," the business said.
Almost 54% of sales are generated on the UK mainland, with 67% of its products sold outside Northern Ireland.
"In the last year we have handed out over 110,000 free samples across the world and this has contributed to a 38.1% increase in exports, year-on-year," Mash Direct added.
"We are committed to the long-term success of the company and are looking forward to an even better 2017.
"We have also reinvested in product development and training and we have some very exciting new products coming out shortly, as well as a new national listing with Morrisons about to start."
Mash Direct was founded by Martin and Tracy Hamilton in 2003, and is now run by the couple and their sons, Lance and Jack. The business employs more than 160 staff.