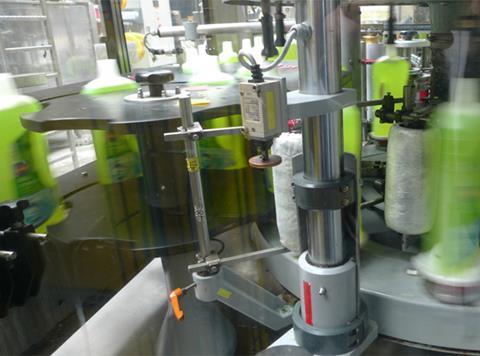 Top story
Private label household goods manufacturer McBride (MCB) has posted a 23% drop in full year adjusted operating profits as performance fell short of its ambitions amid "difficult trading conditions".
Despite a "tough" retail market and a competitive environment, McBride posted what it called "encouraging" overall underlying growth of 2.7% in the year to 30 June within its continuing operations
Full year Group revenues at £721.3m were 4.6% higher than the prior year, aided by a full year of revenues from Danlind, which was acquired in the second quarter of the prior year.
On an underlying basis, full year sales were up 2.7% to £18.5m.
In its household goods division, full year underlying growth was 3.7% higher year-on-year driven by significant year-on-year growth in Germany, the UK and Asia, offsetting continued challenges in its France and 'North' markets.
Aerosol revenues at constant currency plunged 9.3% year-on-year as a result of the exit of the UK Aerosols manufacturing site, which closed during the second half of the year.
Following more than two years of inflationary cost pressure, McBride instigated price increase actions and was able to secure a net £7.8m across a range of customers and product categories within the year.
"Against the backdrop of a highly competitive market and with retailers facing their own margin challenges, this action proved difficult to deliver across the business and with few other competitors following our pricing decisions, we have seen consequences in terms of lost contracts into the new financial year," the company stated.
Raw material, packaging and energy costs increased by a further net £6.6m (1.9%) during the year, while direct labour costs increased by a further £1.1m due to the effect of labour cost inflation and distribution costs increased £6.5m (13.3%) due to transport capacity issues and the tight labour market for drivers.
This meant full year adjusted operating profit fell some 23% back to £28.9m from £37.7m, while adjusted operating profit margin decreased to 4.0% from 5.5% in the prior year.
Full year operating profit was down to £26.6m from £31.8m, including amortisation of £1.9m and exceptional charges of £0.4m.
Interim CEO Chris Smith commented: "As previously announced, the past year has seen a shortfall in profit performance versus our core ambitions. The actions taken over the past three years have enabled the Group to improve its competitive advantage and market share in most product ranges, despite difficult trading conditions.
"Our teams have completed a number of key actions towards our strategic plan, including the integration of Danlind, the disposal of our loss-making Personal Care Liquids business and downsizing of Aerosol operations. This now allows us to focus on our core Household activities in Europe, together with realising our ambitions for our Asian business."
In terms of outlook, McBride said the margin environment remains "challenging" despite some signs of input costs stabilising.
It expects its current financial year will remain in line with its July trading update, with household revenues expected to be flat for the 12 months to 30 June 2020 and earnings to be slightly below the previous financial year.
McBride shares are down 0.4% to 50.8p this morning, having fallen by over 50% in the past six months.
Morning update
Czech billionare Daniel Křetínský has taken a 4.6% stake in French retail giant Groupe Casino (CO) via his investment vehicle Vesa Equity.
Vesa Equity is 53% owned by Křetínský and 47% by Patrik Tkáč and is a long-term investor in the European retail sector, with a 17.52% stake in METRO AG Group as well as a 40% stake in Mall Group, a major e-commerce player in Central and Eastern Europe.
Křetínský said: "This acquisition of a stake in Casino, Guichard-Perrachon reflects our conviction that it is the best positioned retail group on the French market and one of the European leaders best placed to respond to the profound sector transformations.
"Thanks to its formats, the strength of its brands and its unique omnichannel positioning, Casino, Guichard-Perrachon has been able to invest in the modernisation of its model. Therefore, we support the Casino Group's management and fully endorse its long-term strategic vision."
Jean-CharlesNaouri, chairman and CEO of Casino, added: "Mr. Křetínský has extensive experience as an industrial investor, including in the retail sector; his new stake in Casino is further proof of confidence in our ability to innovate and execute. In addition, I will propose to the board of directors to submit the appointment of a representative of Vesa Equity Investment to the board of directors of Casino, Guichard-Perrachon at the next general meeting of the group."
Casino shares are up 5.5% on the news to €43.27.
On the markets this morning, the FTSE 100 has fallen back 0.4% to 7,280.7pts.
Early risers include Glanbia (GLB), up 3.1% to €10.82, Bakkavor, up 2.2% to 110.6p and McColl's (MCLS), up 1.7% to 47p.
Fallers so far include PayPoint (PAY), down 1.5% to 914p, Stock Spirits (STCK), down 1.3% to 233.5p and Greggs (GRG), down 1.1% to 2,058p.
Yesterday in the City
The FTSE 100 rose a further 0.6% to 7,311.3pts yesterday despite a recovery in the pound to US$1.2218 after it collapsed below $1.20 earlier this week.
After another dramatic day of political events in the UK, the lessening likelihood of an October 31 no deal Brexit has boosted the markets.
The news helped the retail sector, with Marks & Spencer (MKS) up 3.4% to 193.1p after its ejection from the FTSE 100, B&M European Value Retail (BME), up 3.1% to 357.5p, Morrisons (MRW), up 1.8% to 185.2p, Sainsbury's (SBRY), up 1.2% to 200p and Tesco (TSCO), up 1.1% to 227.5p. Primark owner Associated British Foods (ABF) was also up 1.8% to 2,366p.
Other risers yesterday included Greencore (GNC), up a further 4.3% to 226.4p, Glanbia (GLB), up 3.1% to €10.50, DS Smith (SMDS), up 3% to 339.7p, PayPoint (PAY), up 2.9% to 928p and C&C Group (CCR), up 2.5% to €4.03.
Fallers yesterday included AG Barr (BAG), down 4.3% to 617p, PureCircle (PURE), down 3.6% to 238p, McColl's (MCLS), down 1.4% to 46.2p and Ocado (OCDO), down 0.9% to 1,332p.