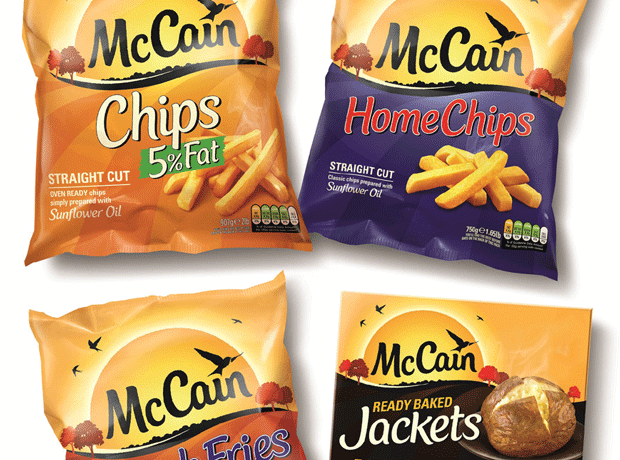 McCain Foods' UK business has boosted pre-tax profits by 16.5% in the past year despite a small dip in revenues as the potato good specialist focused on higher margin products.
For the year to 30 June 2015, McCain Foods GB saw revenues decline 1.1% to £440m amid competitive pressures from European producers fuelled by cheap potatoes and the weak euro.
However, McCain said sales volumes strengthened throughout the year after a sluggish start as a result of the hot summer of 2014.
It said a strong potato crop ensured almost 100% of its supply was British for the year and the company made significant investments in its brand, supported by new media advertising.
This helped drive a 16.5% growth in pre-tax profits to £63.7m from £54.7m in the previous year. Operating profit was up 8% to £58m, while operating margin rose from 12.1% to 13.2%.
Writing in the report, McCain said: "Despite a very marginal reduction in sales revenues, concentration was focussed on selling higher margin products resulting in increased operating profit."
Reported profit for the financial year was up 11.9% to £50.3m, but its total recognised profit was brought down from £38.5m last year to £34.9m in 2014/15 because of the financial treatment of its pensions obligations.
McCain GB recorded an actuarial loss of £19.3m on its pension scheme, up from a loss of £6.5m in the previous year.
A company spokesperson said: "McCain Foods funds a defined benefit pension scheme, the value of which will invariably change year-on-year, dependent on a range of factors, including the assumed life expectancy of our employees."
McCain also paid out £1.9m in redundancy costs during the year. Its average headcount grew from 2,936 to 3,009, but employee costs dropped from £58m to £55.8m.
Some 97% of McCain's GB sales (£424.7m) originated from the UK in 2014/15.