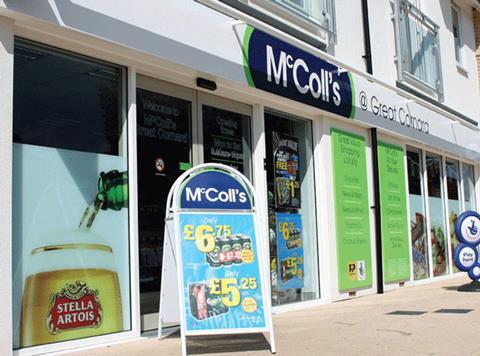 When McColl's floated in February it was one of the few early year IPOs that did not garner a euphoric reception. Despite its solid full-year sales this morning, wary investors may fell their caution has been vindicated.
McColl's was forced to downsize its float back in February and the shares have consistently traded below that 191p issue price since.
On one level this looks a little mean-spirited. It announced today that full-year sales rose by 4.2% - growth its bigger grocery competitors would kill for at the moment.
But that is generally below the rapid rate of expansion investors are looking for in newly stocks and certainly comes up short against the double-digit sales growth at recently listed contemporaries Poundland (one of the small handful of companies trading above its float price) and B&M Bargains.
These concerns over future growth potential are exacerbated by weak like-for-like growth (up 0.7% for the 53 weeks to 30 November) that fell 1% in the fourth quarter.
The firm's shares nudged down again today as management talked of disposable income "under continued pressure" and a "challenging" consumer outlook.
The muted like-for-like performance is perhaps not unexpected. The company has been pushing into the convenience space – it now has 799 c-stores, representing 61% portfolio. But the balance are newsagents – an industry struggling against falling physical media and tobacco sales – and post offices, a sector similarly beset by revenue declines. WH Smith has similarly experienced consistently falling sales in its high-street estate.
There is no doubt McColl's is making progress into the convenience market – it is now the second largest player and in the first half it acquired 33 new stores and converted a further 36. It says it remains on track to achieve its target of 1,000 convenience stores by the end of 2016 – but that portfolio transition (in floor space percentage terms) is a slower process than that seen at Poundland and B&M.
Also of real concern must be that like-for-like sales are getting worse, despite this investment in convenience and reformatting existing stores.
The positive lfl growth of the first half (+2.1%) was reversed the third quarter (down 0.5%) and the pace of decline increased in the fourth quarter (down 1%).
The lack of recent sales momentum goes a long way to explaining why McColl's shares are back at their lowest level since July.
That is not to say McColl's is struggling – it seems on course to post a healthy double-digit rise in operating profit and it does remain in annual like-for-like growth. But increasingly investors want companies without a track record on the public markets to have a compelling growth story – McColl's has a growth story and a sound convenience-based strategy, but in a mixed year for newly floated firms, 0.7% organic growth just isn't enough to get investors excited.