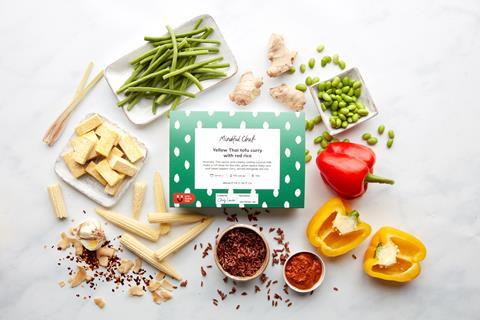 Surging grocery growth and expansion into ready meals saw meal kit player Mindful Chef maintain strong growth last year on top of a record-breaking 2020.
Newly filed accounts in Companies House showed the brand posted growth of 39.3% to £67m in its first full year under the majority ownership of Nestlé.
The continued sales boost came on top of a 228% surge in revenues in 2020, as its core home delivery and subscription business boomed during the pandemic.
CEO Tim Lee said the company had noted "consumer behaviour shifting again" post-Covid, but stressed that the brand's customer retention levels were "better than ever" as the business was supported by a "sustained shift in consumer interest of a healthy diet".
To tap into this demand the brand has boosted its traditional grocery presence, with the launch of a recipe box partnership with Waitrose in late 2021 and the expansion of a chilled meals range in 2022 at the supermarket.
This has led to quadruple-digit (1,021%) retail growth, while its frozen Ready to Go range was up by almost 32% as it continues to expand its category presence and SKU range.
"Mindful Chef is constantly evolving and diversifying to suit consumer needs and so, whilst our D2C offering remains popular, more and more income is being generated from consumers engaging with the brand through retailers," Lee said.
The brand made a statutory profit of £33.8m due to a one-off gain from the sales of intellectual property to another Nestle business.
Excluding this, operating looses growth to £2.6m from £1m, which was "in line with the business strategy" to invest in consumer awarenesss and customer acquisition.
Lee also highlighted the businesss' B Corp status and efforts to achieve 'net zero' by 2030.
"We believe in reinvesting profit back into the business and our critical supply chain in order to spearhead sustainable practices which are at the heart of what we do," he said.
"We have a very clear example of this due to launch in the fourth quarter, where we are incredibly excited to be reinvesting our profit back into our wider business in order to support local British businesses and put our money where our mouths are."