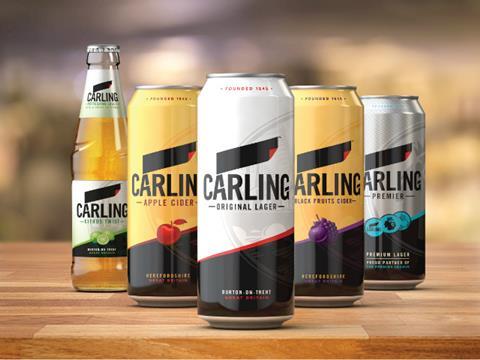 Carling brewer Molson Coors has outperformed the UK beer market after growing domestic sales 3.1% to £1.35bn last year.

Molson Coors Brewing Company (UK) grew sales volumes by 3.2% in the year to 31 December 2016 against a wider domestic beer market volume decline of 1%, according to recently filed accounts at Companies House.
The group grew volumes sales to approximately 8.8m hectolitres in 2016, up from 8.2m last year giving it an 18.6% share of the UK beer market.
The sales boost lifted pre-tax profits to £78.2m from £59.4m, while operating profit before exceptional items rose from £62m to £71.8m.
Despite its increase in profitability, Molson Coors said the biggest current challenge in the UK is margin pressure in the UK beer business across both the on and off-trade.
"The company is managing pricing by channel, in the context of local competition, while staying focussed on the core strategy of building strong brands for the long term and focussing on our strategy of first choice for consumer and customer," the accounts stated.
It incurred a £5.6m restructuring charge in the period, driven by a review of its brewery network and the decision to close its Burton South Brewery and transfer production to the North Brewery site by the end of March 2018.
However, the group also profited by £5.1m from the £6.7m part disposal of its Alton site, giving overall exceptional costs for the year of just £500k.
"The company will continue to develop and invest in the key brands of the business in order to build a well-balanced product portfolio and to maximise profitability," the accounts stated. "The company will also continue to invest in the redevelopment of the Burton brewery in order to improve efficiency and reduce productions costs".
Staff costs rose just 1.3% in the year to £104.7m despite average headcount rising by 4% to over 2,000 employees. However, those additional roles were in sales and administration, with production staff falling from 837 people to 775.