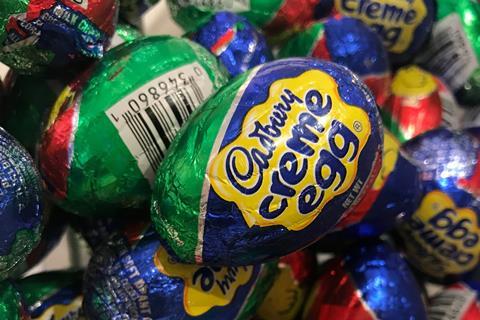 Strong demand in its North American home markets offset declines in emerging markets and Europe for Cadbury owner Mondelez International in the second quarter.
Organic revenues in the US and Canada jumped 11% to $2bn (£1.5bn) in the three months to the end of June as consumers stuck at home during the coronavirus lockdown reached for more Oreos and Ritz crackers.
However, stricter lockdowns in countries in such as India and rapidly growing cases of the virus across Latin America led to a 5.1% fall in comparable sales in emerging markets to $1.9bn (£1.46bn). Sales in Latin America were down 11.3% to $511m (£394m) in the quarter on a comparable basis and by 30.7% when taking into account currency headwinds.
European organic revenues declined 1.2% to $2.1bn (£1.6bn) and were down 4.9% on a reported basis.
Overall, revenues at Mondelez in the quarter fell by a less-than-expected 2.5% to $5.9bn (£4.5bn).
"I am pleased with our second quarter performance given the challenging environment, with top-line performance driven by developed markets and strong share gains in all key markets," said CEO Dirk Van de Put.
"Our emerging markets performance improved throughout the quarter as store closures eased and consumers in many markets were increasingly able to access our products."
Second quarter adjusted operating profits were down 3.8% on a constant currency basis to $942bn.
The group announced an 11% increase in quarterly dividend, paying out $410m to shareholders.
Mondelez withdrew its guidance for the year back in April as a result of the global uncertainty caused by the pandemic. The Oreo maker said visibility was still "limited" in a number of markets and it would be providing full-year forecasts.
It added currency fluctuations were expected to hurt revenue growth in 2020 by about 3%.
"We remain focused on the safety and wellbeing of our colleagues and communities at this time, while continuing to serve our customers in the exceptional circumstances caused by Covid-19," Van de Put said.
"I am proud of how our teams have demonstrated their commitment to our customers and consumers by safely and efficiently maintaining business continuity.
"While we expect continued volatility and uncertainty from Covid-19, I am confident that our strategy, investments, category fundamentals and execution will enable us to successfully navigate this crisis and emerge stronger."