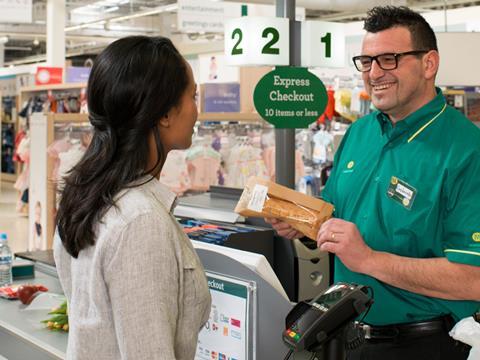 Morrisons (MRW) posted its best sales quarter for nine years and announced a special dividend gift to investors, but the hard-to-please City still sent the supermarket's shares into the red.

On Thursday morning the Bradford-based supermarket announced its first half sales were better than expected at 4.5% up in the six months to 5 August - representing like-for-like growth (excluding fuel) of 4.9%. Group like-for-like sales soared by 6.3% in the second quarter - a nine-year quarterly high - with its retail operations adding 2.5% growth and its fast-expanding wholesale business contributing 3.8%.
England's unexpected progress in the FIFA World Cup and the hot early summer helped boost its retail sales in the quarter, but wholesale was the star of the show as the rollout of its McColl's supply agreement drove strong headline growth.

Morrisons also stressed that sales growth was driven by an uplift in year-on-year volumes sales as inflation was "broadly flat" in the period.

Despite overshooting analyst expectations and paying out a 2p per share special dividend, the shares remained in the red up to Thursday lunchtime, down 0.8% to 263.6p and hitting a low of 256.7p in the morning. The shares ended the day down 2.1% at 260.25p.

Investors were alarmed after higher than expected exceptional items - relating to bond issuance and stock provisions - wiped £59m off Morrisons' profit figures and meant reported profit before tax dropped 29% to £142m. Without these charges, underlying operating profits were up 4.2% to £223m with margin flat at 2.5%.

There was also investor caution that the exceptional second quarter growth was flattered by the World Cup and hot summer, with sustainable growth likely to be significantly lower. However, house broker Shore Capital pointed out that Morrisons' like-for-like sales were still up 2.1% against a far tougher two-year comparison, adding: "With the roof fixed and ideas aplenty to organically develop, a defensive UK stock appears to have a bright future."
GlobalData suggested its growing wholesale business – which has ended new supply agreements with MPK Garages forecourt stores and Big C in Thailand since the half-year end – providing more grounds for optimism." The analyst added: "Morrisons' vertically integrated supply chain and reliance on British suppliers puts it in an a better position than competitors to navigate Brexit – a growing advantage given the Government's lack of direction on what the food market will look like post March 2019."
Morrisons share price fall in Thursday also reflected the strong performance of the shares in recent months, with the shares up some 29% over the past six months as the City responded to its resurgent fortunes.
Broker Bernstein also argued Morrisons' organic growth augers well for the rest of the sector: "This is a good start to UK food retail results as the UK is quickly normalising," the broker stated.