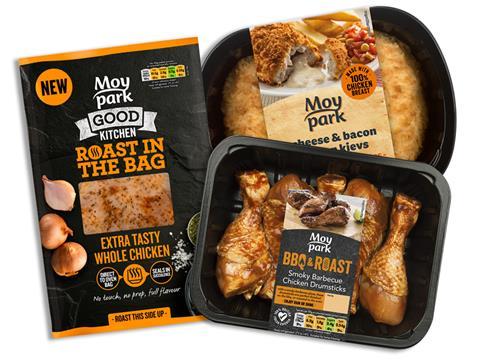 Revenues at Northern Irish poultry producer Moy Park rose 11.3% to £392.6m in the third quarter on strong volume growth, favourable exchange rate movements and recovery of cost inflation.
The group, which was sold by troubled JBS to Pilgrim's Pride in a $1.3bn (£1bn) deal in September, increased EBITDA before exceptional items by 22% to £32.8m in the three months ended 30 September. Strong operational performance and volume growth was partially offset by the timing of cost inflation recovery, Moy Park said.
Like-for-like EBITDA increased 4.5% to £32.8m and like-for-like pre-tax profits were up 8.1% to £16.6m.
"We are pleased to announce a strong third quarter performance, delivering 11% volume and revenue growth across all product categories and an increase in underlying profit before tax," CEO Janet McCollum said.
"This growth is underpinned by our strategy of unrelenting focus on cost control, strong customer relationships and a culture of constant innovation, in what is a changing competitive landscape and a market still facing significant commodity cost inflation."
She added: "Our business is built on the highest standards of food safety and quality, and we are focused on meeting and exceeding the ever-evolving expectations of our customers and consumers.
"We remain confident that we can maintain the momentum and adaptability necessary to build on our position as one of Europe's leading food companies." 2
Volumes increased 13% in the UK & Ireland, driven mainly by fresh poultry sales, pushing up revenues by 11.2% to £288.4m.
Continental Europe delivered volume growth of 8%, with revenues of €116m, 5.7% ahead of the prior year.