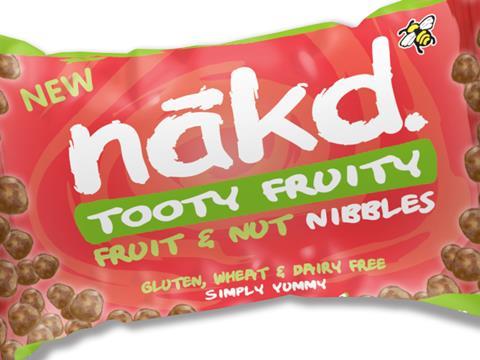 Newly acquired Natural Balance Foods saw a 67% sales jump in the year before its buyout thanks to booming demand for natural snacks.

The Nakd and Trek maker's revenues leapt from £13.3m to £22.2m during the year to 31 March 2015, while pre-tax profit grew 56% to £2.1m from £1.3m last year.

This strong performance saw Natural Balance snapped up by Belgian Biscoff biscuit and cake manufacturer Lotus Bakeries for about £60m in August.

Natural Balance said in its accounts the "remarkable growth" came from increased rate of sale and new listings, products and accounts.

Marketing director Marina Love said shoppers were "increasingly abandoning high-sugar and fat products in favour of minimally processed more natural snacks". She pointed to Nielsen figures that showed Nakd sales growing by 75% year on year, adding £11.3m of retail sales to be worth £25m [Nielsen 52 w/e 23 May 2015]. "This is in stark contrast to the category as a whole where 11 of the top 20 brands are in decline," she said.

"We have a strong programme of NPD in place and our advertising, marketing and promotional support throughout this year will continue to ensure new consumers are drawn into the category."

When the Lotus deal was agreed, Natural Balance founders Jamie and Greg Combs said it would "significantly assist" its international expansion plans.

During the year to 31 March, Natural Balance grew international sales by 64% to £1.3m. International sales made up 6.3% of total sales, slightly down from 6.4% in 2014 as domestic sales grew by 68% to £20.9m.

Gross profit grew by 67% to £8m from £4.8m last year, while reported profits grew by 56% to £1.6m.