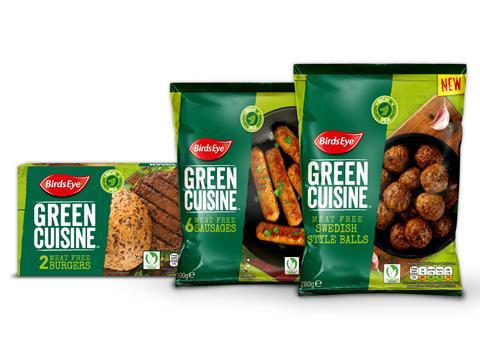 Frozen foods giant Nomad posted headline sales growth in the first three months of 2022 despite tough comparisons and "difficult" economic conditions, but organic sales were down as volumes dropped back.
The Bird's Eye and Findus owner posted a 3.6% rise in overall revenues to €733m in the first three months of the year.
However, this was driven by M&A as organic sales fell 4.5% amid a 6.1% drop in volumes only partially mitigated by a 1.6% increase in pricing.
Adjusted gross profit was also down, falling 4.8% to €205m as adjusted gross margin decreased 250 basis points to 27.9%, driven by higher raw material costs and the inclusion of the Fortenova's frozen food business acquisition which has gross margins below that of the rest of the overall business.
Adjusted EBITDA decreased 4.4% to €132m and adjusted profit for the period was down 10% to €75m due to these factors.
Nevertheless, CEO Stéfan Descheemaeker said the company had "performed well against challenging pandemic comparisons and a difficult macro backdrop".
"We achieved total revenue growth of 3.6% while showing positive market share momentum and maintaining our focus on innovation. We have rapidly adjusted to inflationary changes in the market and plan to recoup rising input costs through more price increases this year while remaining hedged on key inputs for 2022 and beyond."
As a result, he said, the company remains on target to post a full year of double-digit adjusted EPS growth, expecting between €1.71-€1.75 for the year.
This guidance assumes high-single-digit revenue growth for 2022, with a modest organic revenue decline.
It reiterated its target of posting EPS of €2.30 by 2025.
Co-chairman Noam Gottesman added: "We formed Nomad Foods as a resilient business that would invest in people, brands and growth while maintaining a disciplined capital allocation strategy.
"Amid recent macro challenges, we remain confident in the Nomad model and we see great opportunities still ahead. We are gaining market share while staying focused on investment in key areas of the business, especially supply chain.
"We are pleased with the on-going integration of Fortenova's frozen food business and see upside in that exciting enterprise. Overall, we remain focused on a balanced and flexible strategy of smart acquisition and share repurchases to compound the success of our operating results for shareholders."