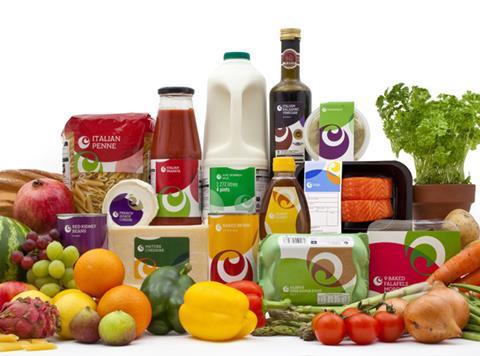 Online grocer Ocado (OCDO) has, as expected, posted its first annual profit since it started operating 15 years ago as revenue jumped by almost 20% compared with 2013.
The group said adjusted profit, before impairments, exceptional items and tax, for the 12 months ended 30 November 2014 was £10.1m, up from a loss of £3.8m a year earlier. On a statutory basis, pre-tax profit came in at £7.2m, compared with being £12.5m in the red in 2013. It is the first time the retailer has filed a full-year profit since its formation in 2000.
Revenue for the period increased by 19.8% year on year to £948.9m, including a £45.1m contribution from its tie-up with Morrisons, and gross retail sales rose 15.3% to £972.4m. Ocado said it believed it performed ahead of the online grocery market in the UK with growth in revenue driven by an increase in average orders per week to 167,000, up from 143,000 in 2013, offset by a modest reduction in average order size, down from £113.53 in 2013 to £112.25 in 2014.
CEO Tim Steiner said: "Channel shift towards online grocery shopping continued during the period. While the broader grocery market was characterised by intense competition with minimal growth in the segment, declining supermarket store sales, competitive price activity and cautious consumer spending, we continued to grow ahead of the online grocery market and significantly ahead of the market overall.
"At the same time, we invested for further growth in UK grocery, non-food and platform opportunities given the attraction of our model in a growing online grocery market."
Turnover from Ocado's non-food offering increased by 51.9% year on year as it expanded it offering, with specialist online pet store Fetch growing at a "significant pace".
"The successful launch and smooth ramp up of Morrisons.com was particularly encouraging and paves the way for future agreements to commercialise the value of our intellectual property," Steiner added.
"Overall, we are well equipped to continue to lead the online grocery revolution, in the UK and overseas, as increasing numbers of customers shift away from traditional forms of retailing. We are confident that we have significant opportunities for growth in sales and shareholder value."
Last week, Ocado revealed it had struck a pre-let deal for its fourth customer fulfilment centre. The hub is Erith, South East London, is expected to be operational by 2017.
The group estimated capital expenditure in 2015 would be approximately £150m (£86.4m in 2014), including the costs of its third distribution facility in Hampshire, which is currently under construction.
Shares in Ocado climbed up 1.3% to 421p after opening the day almost 2% down.
Ocado's six month share-price

Key 2014 financials
FY 2014
£m
FY 2013
£m
Change vs
2013
%
Gross sales (Retail)
972.4
843.0
15.3
Revenue
948.9
792.1
19.8
EBITDA
71.6
45.8
56.3
Adjusted profit/(loss)
10.1
(3.8)
–
Statutory profit/(loss) before tax
7.2
(12.5)
–
Cash and cash equivalents
76.3
110.5
–
Net debt
(99.4)
(50.9)
–